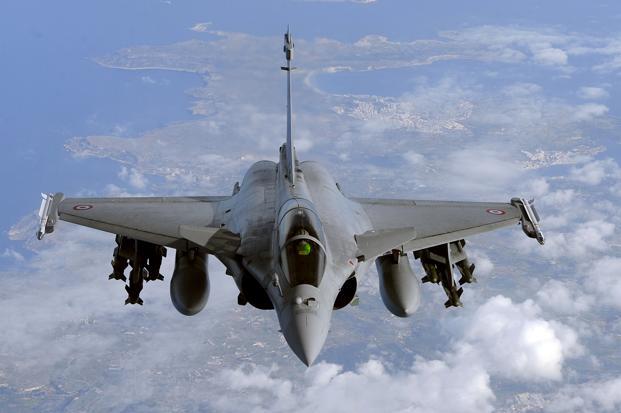 ---
Negotiations for India to buy 36 French Rafale fighter jets are nearing the finish line, the Indian defence ministry said, with sources saying the price will be set at around $9 billion.

Both sides had hoped to wrap up the strategic order during President Francois Hollande's visit for India's Republic Day celebration in January, but hard bargaining on price stalled a final result.

France, India sign Rafale agreement, no deal on price

A ministry source said the price agreed for the Dassault Aviation jets was around 600 billion rupees, although a spokesperson declined to confirm this on the record.

"Negotiations are in the final stage. Nothing has been concluded so far," the spokesperson said late on Friday.

Dassault also declined comment. The price named is significantly below that originally sought by the French plane maker. There have been several leaks to the Indian press over recent months that a deal had been reached that proved to be premature.

Hollande and Prime Minister Narendra Modi intervened in the troubled Rafale procurement last year, ordering government-to-government talks after commercial negotiations with Dassault had collapsed.

The leaders agreed to scale back an original plan to buy 126 Rafale planes to just 36 in fly-away condition to meet the Indian Air Force's urgent needs as it faces an assertive China and long-time foe Pakistan.

Hollande starts India visit, says jet deal will take time

The 90 planes not supplied via the original multi-role combat aircraft tender have meanwhile become the target of intense interest from other plane makers.

Lockheed Martin Corp pitched its F-16 Fighting Falcon and Boeing Co its F-18 Super Hornet to Indian officials before US Defense Secretary Ashton Carter's recent trip to New Delhi.

Both are offering to transfer production to support Modi's 'Make in India' drive to boost India's industrial base and reduce its import needs. India is the world's largest buyer of foreign arms.

The Carter visit made progress towards 'foundational' agreements to strengthen the partnership with India and allow for technology transfer while protecting the intellectual property of US defence contractors.