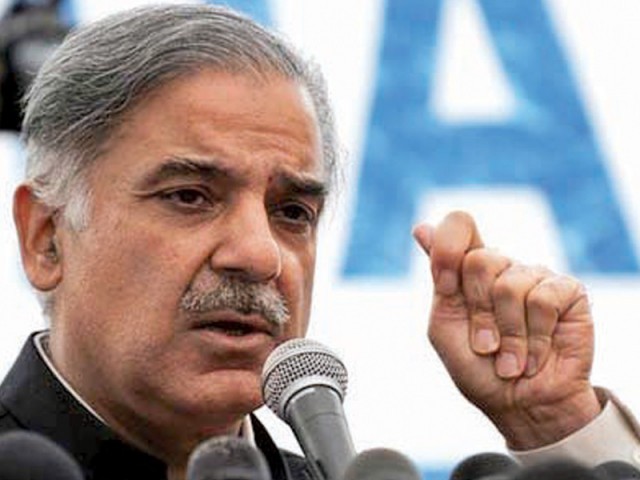 ---
LAHORE:



Punjab Chief Minister Shahbaz Sharif has said the proposed commission to probe the Panama Papers leaks will also investigate cases of domestic corruption.




"The commission, once formed, will not limit itself just to Panama Papers leaks but will probe all the offshore businesses of Pakistanis across the world," Shahbaz said on Friday in an exclusive interview to Express News anchorperson Gharidah Farooqi.

All Pakistanis named in Panama Papers face probe

Panama Papers, a vast collection of documents leaked from a Panama-based law firm, revealed that three scions of Prime Minister Nawaz Sharif's family were among the thousands of people who stashed assets in offshore companies.

While denying any wrongdoing, the PM had announced a commission, to be led by a retired Supreme Court judge, to investigate the charges against his family.

Alluding to the proposed commission, Shahbaz said those people will also be held accountable who got their bank loans written off, looted public money and piled miseries on people.

"This commission will hold everyone accountable and nobody will be treated as a sacred cow. All the political parties must give us the mandate to form such a commission," he said.




He said the prime minister's vision about the commission is that it should prove transparent justice. "The government will consult every political group in connection with the commission," he said.

Panama Leaks: PPP forms two teams to ponder strategy

Defending the prime minister' children offshore companies, Shahbaz said Hasan Nawaz and Hussain Nawaz had been away from the country and doing business abroad for the last many year and that Pakistani tax laws did not apply on them.

He said the companies they formed worked under the laws of the respective countries and were not illegal; moreover, he said, the prime minister and his wife have not received any benefit from these businesses.

"However, the prime minister has said that his children will be answerable to the commission and will tell it whether any money has been transferred illegally. What else can the prime minister possible do," he said.

The CM said Panama Paper leaks revealed names of over two hundred Pakistanis but only the sons of prime minister were being targeted. "The names of all these people should also be discussed," he said.

He said the people who looted the country in the past were forgiven. "But now the nations wants to know the real faces that stole the peoples' money."

He said the government had contacted the Supreme Court's renowned judges and asked them to head the proposed commission but they had refused.  "I also read the chief justices' statement that inquiry was not their job. Now the only option left is that of retired judges," he added.

Panama Papers: Opposition calls for parliamentary probe

Shahbaz said former governments of the PPP and General Pervez Musharraf had relentlessly probed him and his bother, Nawaz Sharif, but they could never find corruption of even a single penny. Citing the recent Pildat survey, he said Punjab was found to be on top province in term of transparency.

Responding to a question, Shahbaz said the 2014 marathon sit-ins in Islamabad were part of a conspiracy. These sit-ins, jointly carried out by Imran Khan PTI and Dr Tahirul Qadri's PAT, were ultimately called off after December 2014 attack on a school in Peshawar.

"And people will again defeat it, if such conspiracy is repeated," Shahbaz said in an apparent reference to the PTI's recent ultimatum that it will stage another sit-in outside the Sharif's family residence in Raiwand, if the government does not form a commission under the supreme court's chief justice.

"This will go real far if the sit-in is held," he added.



Published in The Express Tribune, April 16th, 2016.
COMMENTS (11)
Comments are moderated and generally will be posted if they are on-topic and not abusive.
For more information, please see our Comments FAQ