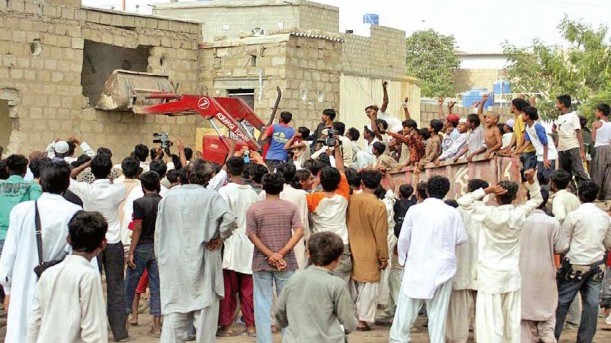 ---
KARACHI: Outraged residents of Zaman Town, Korangi, not satisfied with burning down the Tasveer Mahal police check post and station, also demolished the building with the help of a tractor on Tuesday.

This deep-seated anger against the police was expressed after people found out that police officials had set two robbers, caught by the residents of the area, free in return for money. The robbers, a man and a woman, were caught as they were leaving a house they had looted. The residents handed them over to the police who allegedly set them free after accepting a bribe.

The police also locked up the plaintiff. When the news spread, residents surrounded the police station and attacked the officials, injuring two policemen. Unable to control the crowd, the police ran away after which the crowd set the plaintiff free and set fire to the police station. Police records as well as five motorcycles parked outside the station were also brunt. The mob also stole at least four SMGs and other ammunition. Another contingent of police sent to the area to control the situation also fled when it came under attack.

They first fired in the air and charged the crowd with batons but when people retaliated by attacking them and their cars with stones, they left the area. The crowd then stopped a Korangi Town tractor and used it to demolish the station, which took three hours. Two Rangers mobiles were called in and they finally managed to break up the crowd. Those involved in the rioting ran away and hid from lawenforcement officials. Residents, however, have said that their protest has not ended.

They said that they were tired of dealing with corrupt police officials and would not allow a check post or station to be re-established in the area. People also complained that the police had never made them feel protected and had instead created problems for them by their corrupt ways. They accused the police of extorting money from people whose houses were under construction and said that written applications and complaints against robberies in the last one year in the area went unheeded.

They said that they had tried to complain about the police's ineffectiveness which also did not result in a change. Meanwhile, SP Korangi as well as other police officials refused to comment on the situation, saying that they were investigating the matter. They did, however, say that action would be taken against officials found guilty of taking bribes. Legal proceedings would also be initiated against those who destroyed the police station, officials said.