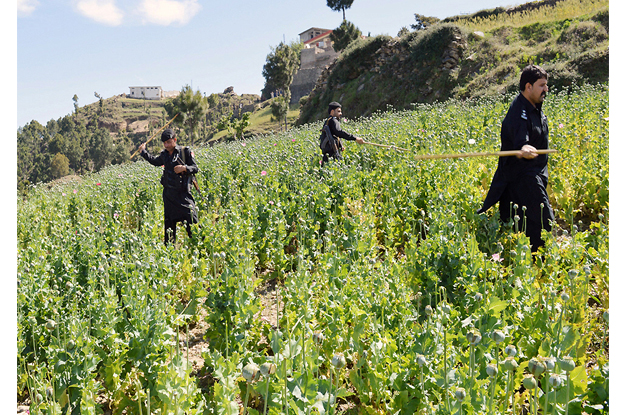 ---
SWABI: The civil administration and police destroyed poppy crops in various villages of Gadoon Amazai in Swabi on Friday. Officials informed The Express Tribune the Swabi assistant commissioner supervised the process of destroying poppy crops in far-flung mountainous areas of the region. They added poppy crops were spread over an area of 23 kanals in Mangal Chayi, Chennai, Dalori, Dewal Garhi and other villages. The process of poppy destruction will continue till April 16.

Till 1983, Gadoon Amazai and Buner were known for quality opium. However, in 1984 the government imposed a ban on poppy cultivation – a decision which resulted in violence. At least four persons were killed and six others injured when police opened fire on a protest rally condemning the ban.

The incident took place in Gandaf town. Later, the late Khan Abdul Wali carried out efforts which forced the government to announce a development package as an alternate of the poppy crop.

Published in The Express Tribune, April 16th,  2016.
COMMENTS
Comments are moderated and generally will be posted if they are on-topic and not abusive.
For more information, please see our Comments FAQ