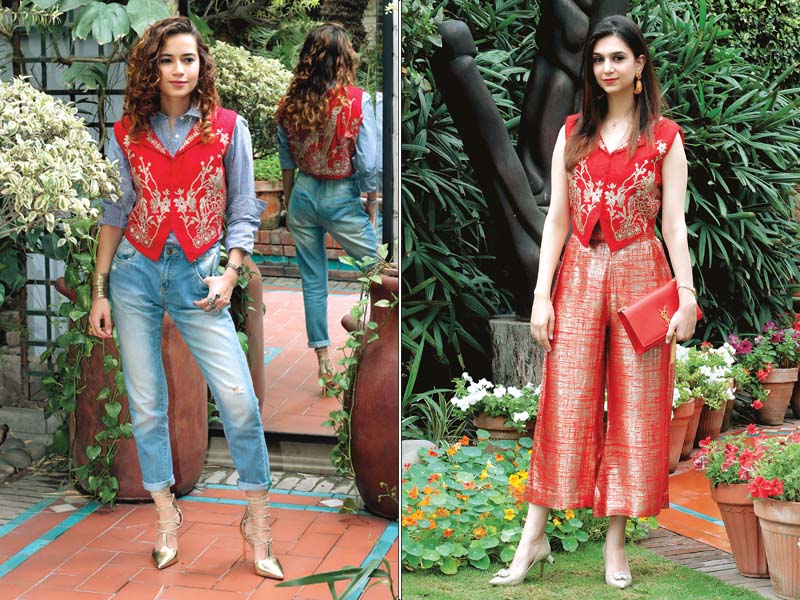 ---
While trends fade, style remains eternal and one piece can be put together in many different ways. We ask three fashionistas to put together an outfit using the same item from a designer's collection, according to their style and taste!


According to designer Khadija Malik, her Hummingbird waistcoat in red and gold is quintessentially traditional in its aesthetic but it comes with a modern twist. The delicate embellishments are all finely laser-cut and executed using new applique techniques to create this look of old-school glamour. The hand-drawn feel of the artwork has been deliberately preserved in keeping with the royal tradition of Mughal court dresses. The waistcoat is designed as part of a larger ensemble inspired by that era, yet also lends itself as a separate piece to an abundance of styling possibilities. All fabrics used are natural cotton and silk, as the brand shies away from using any man-made materials to keep its carbon footprint in check.


Sehyr Anis

Development practitioner, Govt of Punjab CEO, Quirky & Co

My heart skipped a beat when I saw this waistcoat and I instantly knew I wanted it for my wardrobe. I fell for its unique laser-cut design intricately embossed onto the beautiful rich fabric, making it edgy and different. I generally favour a minimalist chic style, and play up my looks with quirky accessories and jewellery. First off, I chose to wear it back to front. It gave the feel of a crop top and the edges of the waistcoat fell flatteringly at the back. I paired it with a can-can iconic black skirt and gold heels, adding a metallic Quirky & Co. clutch. I finished off my look with gold jhumkas from Amrapali, and an armband from BCBG. For my makeup I did dark smoky eyes with lots of mascara and nude lips and blow-dried my hair. I felt ready for a festive evening and would take this look to a ball or even to a wedding!


Haiya Bokhari

Assistant editor, Instep/Stylist

I'm very experimental in my personal style and like mixing different elements for a unique look. I loved the waistcoat because it pairs structure with feminine embellishment, and for its versatility. I chose to pair it up with my Zara boyfriend jeans and a button down from Levis to break some of its richness and to add a slightly androgynous feel. My lace-up gold heels from Charles & Keith tied the look together, along with my accessories that included stacked rings and a gold cuff. I kept my makeup minimal and left my hair natural. I would wear this look out for an afternoon formal lunch.


Khuban Omer Khan

Managing director, Farida Hasan

My style is fairly fluid and I enjoy experimenting with new cuts and trends, but I'd say it is more or less classic. I loved the waistcoat from the get-go and couldn't wait to wear it! I love the colour combination and the cut is very flattering. Its such a versatile piece and can be worn in so many ways that I had a tough time making up my mind on how to style it. In the end, I decided to pair it up with red culottes from Muse, and my favourite new Cinderella pumps from Jimmy Choo. I added gold Outhouse earrings to catch the gold work in the jacket. My red YSL shoulder bag was perfect to carry with it. I kept my hair and make-up natural, adding a pop of my favourite red lip-gloss to finish the look. I would wear this outfit to a formal dinner or to a party.
COMMENTS
Comments are moderated and generally will be posted if they are on-topic and not abusive.
For more information, please see our Comments FAQ