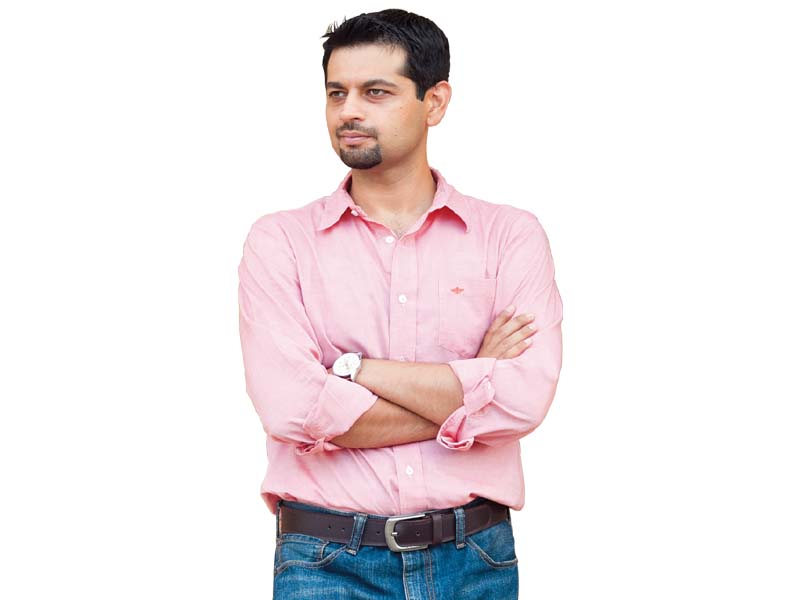 ---
Writer Umair Naeem just launched his second book, The Runaway, and he talks to us about his journey as a writer, the novels that influenced him, and the key elements in his work, which makes it so compelling

How did you get into creative writing?

I have been passionate about creative writing since I was very young. I remember when I was eight or nine years old, I used to write short stories and poems, though they weren't very good. How my first novel actually came about was that I was reading excerpts from Mohsin Hamid's Mothsmoke. He wrote about Lahore and in the passage I was reading, the main protagonist walks through Lahore and he sees a friend of his run over someone. So it struck me that you are allowed to write about your city, and you are allowed to write about what's going on around you.

What is your favourite or most influential books and why?

I have a number of favourite books. Mothsmoke is very dear to me and gave me a lot of inspiration, The English Patient by Michael Ondaatje, Steven King — I love his books, his writing style — and I'm a big horror fan! Mohammad Hanif, author of A Case of Exploding Mangoes, a very fun book. Daniyal Mueenuddin In Other Rooms inspired me to write situational short stories. Also, Kamila Shamsie's novels have been quite influential.

What book are you reading right now?

I just finished American Gods by Neil Gaiman. It talks about how all religions have a God, and when people migrate, they bring their beliefs to the new country. America is a country of migrants, and various people brought in their beliefs, so it talks about the spiritual belief of these people. It's a little philosophical, but it's an interesting concept.

Where do your ideas come from?

I've never been formally trained in creative writing, whatever I have learned has been by reading and understanding how people tell their story. It's also about observing people, we are lucky that we live in Karachi because there are so many people here, and they all have their own stories. Essentially my ideas come from them. I also think it's about personal experiences too. A lot of things happen to you or the people you know, and one can derive a lot of stories and characters from that too.




What do you think makes a good story?

I think there are different elements. The first thing is engagement with the reader, and you can only engage with the reader if you are genuine about what you're saying. Second, how true the author feels the story to be. Third, the descriptions, picking up something that gives a distinctive detail about someone. Lastly, the plot is very important. It should not slow down, or meander, otherwise you lose the reader.

Your first novel, Drowning Shadows, was a thriller set in Karachi's fashion world. What was it about Karachi and the fashion world that made it the perfect backdrop for your story?

The fashion world fit because when I set the plot, the main character ended up being a photographer. In the fashion industry, you have people who appear to be someone and actually have a very different life behind the scenes. This is true for a lot of us because I think we all put up our best face in front of people, but the fashion industry is a very visual medium, it's essentially a show, and when you put on a show, you put on an act as well. So that kind of made it a natural fit.

Share a story about people you met while researching for this book?

Last year my wife and I travelled to Hunza, a fantastic spot with very friendly people. We were walking down the road, and stopped at an apricot tree to pick some of the fallen apricots. A woman called out to us from the balcony, and we thought she'd gotten angry, but she invited us in. So we went in and chatted with her about her life, then she gave us a little plastic bag and said, "uppar jao. Pick whatever you want from the trees." Small experiences like that also influence my writing, and help put my story together.

How long did it take you to write The Runaway?

It took me four years to finish The Runaway, and the first novel took me two years.

Is there a message in your novel that you hope readers will grasp?

The ability to bounce back, to have faith, and to have hope is very important to me. With all my books or anything that I write, my message is always to have hope and faith. If you are religious, having faith that God will guide you, if not, having faith that the universe will guide you — just being positive enough.

If you had to do it all over again, would you change anything in The Runaway?

I think everyday we become a different person, we gain a layer of experience. I'm not the same person who started off the book and who finished it. So if I were to start writing it again, it would be very different because I am different. But if you're asking me if I have any regrets then no, it's a complete story.

What was one of the most surprising things you learned while writing your books?

On a personal level, I learnt my capacity to bounce back. I've also learned more about how people are human at the end of the day. Whether they're good or bad, there's a reason why they're doing what they're doing. This empathy is something that I have developed overtime.

What advice would you give aspiring writers?

Understand how a story's dynamics work and keep an open mind to new ways of story-telling. Observation is very important. If you just listen, you'll hear a lot of great stories. If you let your imagination go, then it will run. Have a lot of patience because it's a long process, and finally, a thick skin because you will hear a lot of criticism.

What is next for you? What are you working on now?

Over the last four or five years there are a number of short stories that I have written, I want to write a few more and maybe do a collection. There's also another novel that I have started writing but it's at the inception stage right now.