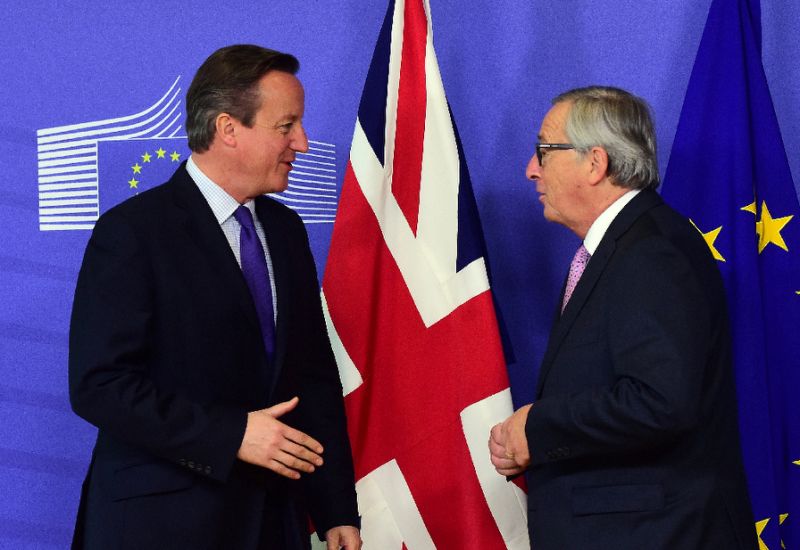 ---
LONDON: Activists hit the streets Friday for the first official day of campaigning over Britain's "Brexit" referendum, firing the starting pistol on a tense 10-week battle over Britain's future in Europe.

Opinion polls suggest the British public is evenly split ahead of the June 23 vote, which could bring down Prime Minister David Cameron and plunge one of the world's leading economies into uncertainty.

The referendum -- Britons' first direct say on the divisive issue of Europe in more than 40 years -- is also being nervously watched in Washington and Brussels, where a "Brexit" would add to a long list of EU crises.

France warns UK post-Brexit trade deal would mean paying to EU budget

"We absolutely think we're going to win it," Peter Reeve, a spokesman for the UK Independence Party (UKIP), told AFP as he campaigned in Peterborough -- a market town in eastern England where an influx of East European workers has angered many locals.

Charismatic London mayor Boris Johnson will lead a "Brexit blitz" with rallies on Friday and Saturday where he will try to persuade Britons that they could thrive if cut free from EU red tape.

Johnson has compared leaving the bloc to escaping from prison, saying the referendum was "like the jailer has accidentally left the door of the jail open and people can see the sunlit lands beyond".

In the "Remain" corner is Cameron, who says Britain has a "special status" within the EU thanks to a renegotiation he sealed in February, and that the country will be richer and stronger if it stays in.

Bank of England warns again on Brexit, holds rates

Former finance minister Alistair Darling accused Brexit backers in a speech later on Friday of "playing with fire" and offering "Project Fantasy".

The "Remain" and "Leave" camps are now level on 50 percent support, according to a poll of polls run by academics at the What UK Thinks project, with around one fifth of voters undecided.

Both camps planned dozens of events across Britain to launch their campaigns, mobilising volunteers to hand out leaflets in a bid to win over fellow Britons.

The "Remain" camp can also count on the support of US President Barack Obama, who will head to London next week to join an international chorus of leaders imploring Britain not to leave the European Union.

Former British colony Australia says it wants Britain to stay in EU

Foreign policy adviser Ben Rhodes said the president would be "very straightforward and candid... as to why the US believes that it is good for the UK to remain."

Cameron is confident of winning the poll, despite deep divisions within his Conservative party on Europe.

His "Britain Stronger In Europe" campaign has drawn support from the country's main political parties and some of its biggest employers.

Global bodies such as the International Monetary Fund (IMF) have also warned that a Brexit could damage Britain.

Debate about whether Britain should stay in the EU has been raging for weeks, but the race shifted up a gear this week when election officials named the two official campaigns, unlocking a treasure chest of publicly funded benefits for both sides.

After months of infighting, the "Vote Leave" campaign beat the Leave.EU campaign supported by UKIP leader Nigel Farage to be named the official Brexit campaign.

Jeremy Corbyn, leader of the main opposition Labour, only made his first big pro-EU speech Thursday and previously opposed EU membership but could play a key role in engaging voters, particularly the young.

Support from Labour voters will prove crucial, particularly as YouGov polling for The Times this week suggested the electorate is increasingly distrustful of what Cameron tells them about the referendum.

"Such evidence as we do have consistently points to 'Leave' voters ... being keener to make it to the polls," said John Curtice of Strathclyde University, Britain's leading poll expert.

"Leave" campaigners took heart from the fact that only 32 percent of people in the Netherlands voted in last week's referendum on an EU deal with Ukraine, seen as linked to anti-Brussels sentiment.

For their part, the "Remain" camp this week launched a YouTube campaign called "Talk To Gran" urging young people to persuade their grandparents to vote for continued EU membership.