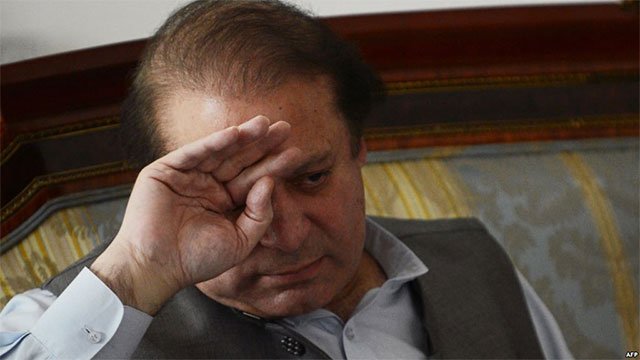 ---
WASHINGTON: As the chorus for Prime Minister Nawaz Sharif's resignation gains momentum, the United States on Thursday said Pakistani people will have to decide whether the premier should resign.

"These are decisions that the Pakistani people have to make, and we've talked about this before," US State Department spokesperson John Kirby said.

Clarifying the US takes corruption "very seriously", Kirby said, "But in terms of this particular case, I mean, these are decisions that the Pakistani people have to make."

The state department spokesperson's statement came in response to a question whether the US would support the democratic elected prime minister of Pakistan, or would want to see the corrupt leaders go home in the wake of Panama Leaks.

All Pakistanis named in Panama leaks face probe

"Separate and distinct from that – and I'm not talking about this specific case – the Secretary has also been very clear about the dangers of corruption around the world and what that does to fuel extremism and to increase economic instability and the corrosive effect that it can have on entire societies. So corruption is something we obviously take very seriously," Kirby told media men during his weekly briefing.

While a controversy spurred by the Panama Leaks is gathering steam, Pakistan's opposition parties appear to be divided over a demand for Prime Minister Nawaz Sharif to step down until a judicial commission investigates the claims his family has secret offshore holdings.

Imran Khan's Pakistan Tehreek-e-Insaf (PTI), the second largest opposition party, has been campaigning for the prime minister to resign because "he has lost the moral authority to stay in power".

It has also called for an inquiry by the incumbent chief justice of Pakistan (CJP) into the Panama Papers expose.

Panama Papers: Petitioner to add to case against PM

The largest opposition group, the Pakistan Peoples Party, agrees with the PTI's demand for a CJP-led probe, but says it will only press for the prime minister's resignation if the judicial inquiry endorses the Panama leaks.

The PTI is approaching other opposition groups to enlist their support in its campaign against the government. The party's vice chairman, Shah Mehmood Qureshi, met Jamaat-e-Islami Ameer Sirajul Haq in Islamabad on Tuesday to muster the support of the politico-religious party.

Referring to Pakistan's stance on the war against terror and silencing doubts about Pakistan's biases towards certain terrorist groups, Kirby said, "We've been consistently clear with the highest levels of the Government of Pakistan that it must target all militant groups, including the Haqqani Network, al Qaeda, Lashkar-e Tayyiba.

Declassified US document suggests Pakistani link to attack on CIA agents

"And the government of Pakistan itself, has repeatedly said it's not going to discriminate against a terrorist group regardless of their agenda or affiliation," he said, while referring to a declassified US government document suggesting Pakistani link to attack on CIA agents.

Pakistani intelligence officer paid $200,000 to an extremist network to facilitate a deadly suicide bomb attack on CIA operatives at a base in Afghanistan in 2009, according to a declassified US government document obtained by an independent research group.

The heavily redacted document obtained by the National Security Archive, a nongovernmental research institute at George Washington University, suggests that Pakistan's spy agency, the Inter-Services Intelligence directorate, and the Haqqani network were involved in facilitating the attack.
COMMENTS (39)
Comments are moderated and generally will be posted if they are on-topic and not abusive.
For more information, please see our Comments FAQ