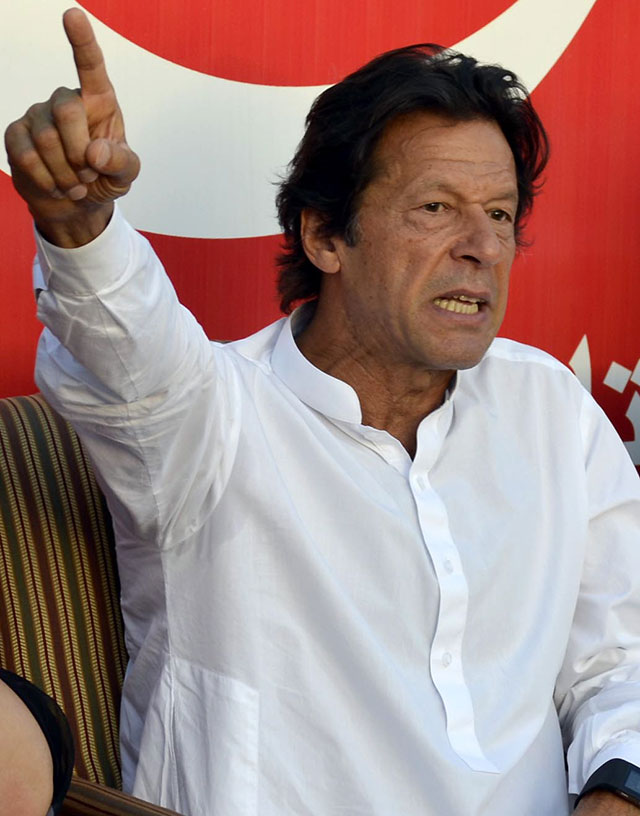 ---
LAHORE:



Pakistan Tehreek-e-Insaf (PTI) chairman Imran Khan said on Thursday that they will not rest till justice is served in the ongoing issue of Panama Leaks in the country.




Speaking to the media at Lahore airport before flying to London and at Heathrow after reaching the British capital, the PTI chief said that if they do not get justice, only then will they stage a dharna.

'Will march towards Raiwind if Panama Papers revelations not probed independently'

"Dharna is the final stage unless we get justice," Imran said.

"We held a dharna against rigging [in 2014] after striving for justice in vain for over a year," he explained.

Panama Papers, a trove of over 11.5 million documents, had revealed that Prime Minister Nawaz's three children were among the thousands of wealthy people from across the globe, who had stashed away their money in offshore companies. PTI has demanded a judicial inquiry into revelations and whether public funds were secreted in offshore accounts.

"We want a judicial commission under the chief justice and an inquiry to take place -- all parties have agreed to this," the PTI chief said.




Imran had previously announced that his party would march on the Sharif family home in Raiwind and stage a dharna unless an impartial inquiry is held.

Govt rejects Imran Khan's demand to address nation on state television

"If it (inquiry) happens, we will not stage a protest," Imran asserted.

The PTI chief, who had announced his trip earlier the week, said he was going to London primarily to attend fundraising events for Shaukat Khanum Memorial Hospital. He added that during the trip he will also meet with two international auditing firms which "specialise in white-collar crime" and forensic tax audits in relation to the Panama Leaks.

He added that no one can reject the Panama Leaks as he again dispelled the notion that the leaks was a conspiracy hatched by his party. "This is something that happened internationally."

He added that the Pakistan Peoples Party and the ruling Pakistan Muslim League-Nawaz (PML-N) have been blackmailing and backing each other for their interests.

"Instead of presenting themselves for accountability, they are blackmailing others," Imran said.

He added that if a sitting prime minister is probed over this issue, it would be a historic moment for democracy in the country.

Asked about the PPP reluctant to join his protests, Imran said he will go ahead with the dharna even if it meant going it alone. "I will try my best to get support of lawyers and civil society, since they all are affected"

All Pakistanis named in leaks face probe

While Imran was accompanied by PTI leaders Jahangir Tareen and Aleem Khan they bumped into a rather unlikely government official, Interior Minister Chaudhry Nisar Ali Khan on their plane.

After landing in London, Imran conceded that he and Nisar had held a discussion during their flight.

"I only talked to Nisar about holding PTI's 20th anniversary celebrations at F-9 park on April 24," Imran explained.

The interior minister has publicly stated that the PTI will not be allowed to stage any event in F-9 or at D-chowk. But Imran said he used his meeting with the interior minister to convince him otherwise.

"He (Nisar) raised concerns about whether we would go into the red zone or blue area," he said adding that after assuring the minister that the PTI did not have any such intentions, Nisar conceded.

"He does not have any other reservations about that."


Published in The Express Tribune, April 15th, 2016.