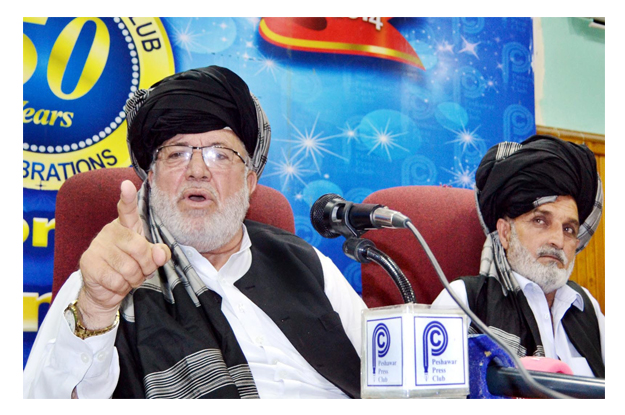 ---
PESHAWAR: Tribespeople from North Waziristan Agency have pressed the government announce a compensation package for traders so business activities could be revived in the tribal area.

Speaking at a news conference at Peshawar Press Club on Thursday, FATA Grand Alliance chief Malik Marjan Wazir, along with other tribal elders of the agency, said the ongoing military operation was nearing its conclusion. He asked that a process should be chalked out to reconstruct destroyed shops and markets at the two main bazaars in Miranshah and Mirali. He asked the government to allow traders to reestablish their businesses.

The government, he said, should take steps on their own by announcing a comprehensive financial package to affected traders of the two main bazaars of NWA.

"We are going through a lot of problems and Fata is faced with enormous challenges, despite the fact its people have rendered tremendous sacrifices for their homeland."

Marjan demanded that the FATA reforms process be according to the wishes of the people of Fata and hoped the new governor would play his role to bring tribal society into the main stream.

He said there was a dire need to compensate IDPs through the Benazir Income Support Programme.

Marjan asked authorities to take notice of NADRA officials and tribal elders who were responsible for issuing computerised national identity cards and domiciles of NWA to Afghans.

Expressing his disappointment with FATA Disaster Management Authority (FDMA), he said it was using funds for the tribal belt for its personal interest. He recalled Punjab Chief Minister Shahbaz Sharif had pledged the establishment of a major hospital, school and the repair of over 200 damaged houses in NWA. However, the commitment was yet to be fulfilled.

Marjan said some displaced people even fled to neighbouring Afghanistan due to security forces action in NWA. He said the government should also make arrangements for their repatriation. He feared if authorities failed to take steps for the return of NWA refugees in Afghanistan, they may be used by anti-state elements.

Published in The Express Tribune, April 15th, 2016.
COMMENTS
Comments are moderated and generally will be posted if they are on-topic and not abusive.
For more information, please see our Comments FAQ