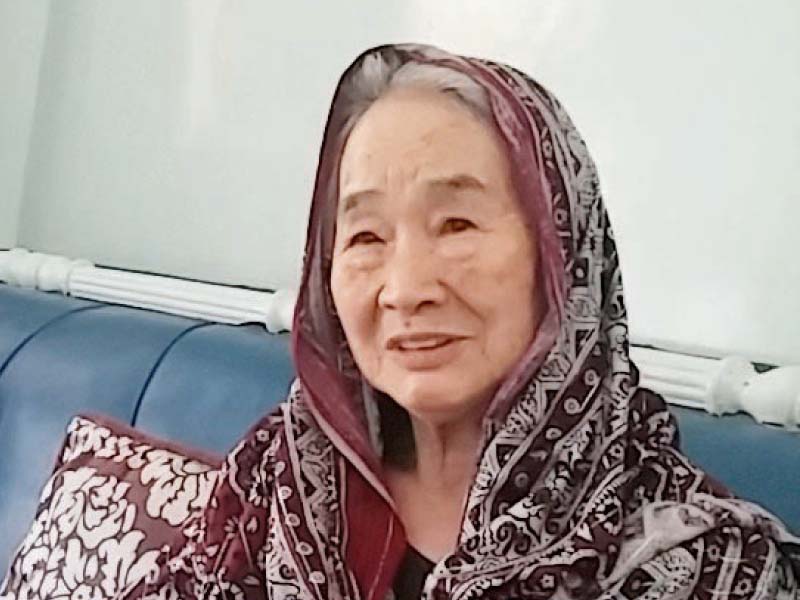 ---
GILGIT: Women empowerment was not on Tokunaga Tadako's mind when she visited Gilgit-Baltistan in 1974 for the first time. Engrossed and completely captivated by the beauty of the region, Tadako explored the area and mingled with locals.

"Soon, the plight of women in G-B overshadowed my ecstasy and I became convinced that I had to work here for their welfare," the 72-year-old Japanese woman who speaks fluent Urdu, told The Express Tribune on Thursday.

No safe passage for pro-women bills in G-B

Over the past 15 years, over 10,000 women have learnt the art of sewing and stitching from vocational training centres that Tadako established in Gilgit. Many marginalised women have been able to earn a living and support their families because of the skills they were taught.

The journey

In early 1980s, Takado married Samiul Haq, a resident of G-B and settled in Gilgit. She also converted to Islam, changing her name to Laila.

"It was after my marriage, that I truly realised how helpless women in the area were. They lacked health, education and civic amenities."

She said she knew something had to be done about it. Nearly two decades after her marriage, her husband passed away and she moved back to Japan, but her relationship with the region continued to blossom.

"My desire to work for women increased especially after the death of my husband," she said.

In 1999, she contacted her relatives in Gilgit and set up a vocational training centre – Nipa Welfare Association (NWA) – for women with their assistance.

Living legacy

The centre not only provided women basic education but also taught them skills such as sewing and stitching to help them become financially independent.

In 2004, the NWA purchased three kanals of land and formally shifted the vocational centre into a building in 2008. It has over 10 rooms, apart from two training halls, and is supervised by Saiqa Nazir, a relative of her late husband.

24,000 women will be provided interest free loans in G-B

"Without Nazir's help, I would not have been able to do all of this," she told The Express Tribune.

Apart from the original NWA venue which she set up herself, the 72-year-old manages five other centres in various parts of Gilgit.

At present over 100 women are receiving training at six centres in Gilgit. During special classes, they are also taught about how to maintain health care of newborn babies.

Tadako visits the centre in G-B twice a year and has been impressed and overwhelmed by the impact of her work and the warm reception shown by people.

"I feel an inner peace whenever I help women whose circumstances are not always promising," she said and vowed to continue her work till her death.

Tadako has also written two books in Japanese. One of the books was written after the September 11 attacks and aimed to introduce an image of Islam that went beyond stereotypes. This book also won an award in Japan.



Published in The Express Tribune, April 15th, 2016.
COMMENTS (5)
Comments are moderated and generally will be posted if they are on-topic and not abusive.
For more information, please see our Comments FAQ