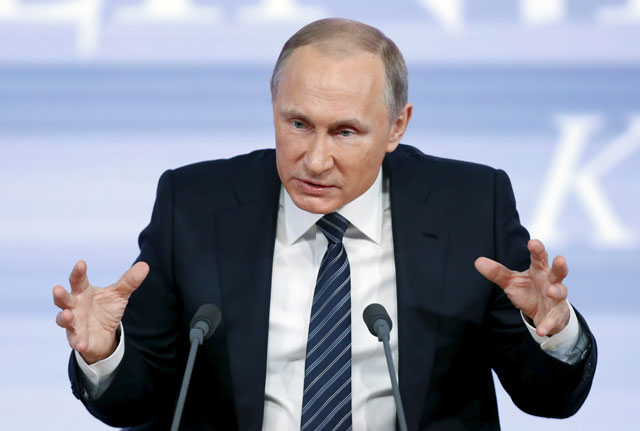 ---
MOSCOW: Russian President Vladimir Putin acknowledged on Thursday the accuracy of the Panama Papers revelations, but claimed funds had been spent on musical instruments as he blamed the leak on the United States.

The Papers revealed that Putin's associates, notably cellist Sergei Roldugin, "secretly shuffled as much as $2 billion through banks and shadow companies," according to the International Consortium of Investigative Journalists (ICIJ).

During Putin's annual phone-in with the nation, a male caller asked the president why he did not react to "slander in Western media and "unreliable information about offshores."

British PM admits mishandling offshore revelations

Putin sighed, saying that "strange as it may seem, they are not publishing unreliable information about offshores. The information is accurate."

"I get the impression it (the report) was put together not even by journalists but most likely by lawyers," Putin said of the leaked information.

"They do not specifically accuse anyone of anything."

The leaks "just serve to muddy the waters" by raising the possibility that "money from these offshores goes to some officials, including to the president," Putin said.

Those who investigated the Panama papers were "wide of the mark," he insisted.

He alleged that "staff of US official institutions" were working on the disclosures, which he called "acts of provocation" ahead of Russia's parliamentary elections in September.

"We should not expect any repentance from them, they will keep doing it anyway and the closer the elections, the more smear campaigns there will be," Putin said.

Panama Papers: Nawaz family used offshore firms to own UK properties

In patriotic rhetoric, Putin boasted that Russia "cannot be manipulated" and must be "spoken to with respect."

He reiterated his defence of his cellist friend, insisting Roldugin spends all his money on costly musical instruments and is not corrupt.

"In Russia you can just about imagine a bribe paid in Borzoi puppies, but in violins and cellos? That's a new one to me," Putin said.

Roldugin has now spent all his money on instruments and is in debt, Putin added.

"Sergei Pavlovich has nothing left because he has spent more money on those instruments than he had," Putin said, using a respectful patronymic.

Roldugin bought two cellos and two violins, Putin said.

"The last one he bought ... cost around $12 million," Putin said, calling it a Stradivarius cello known as Stuart from 1732.