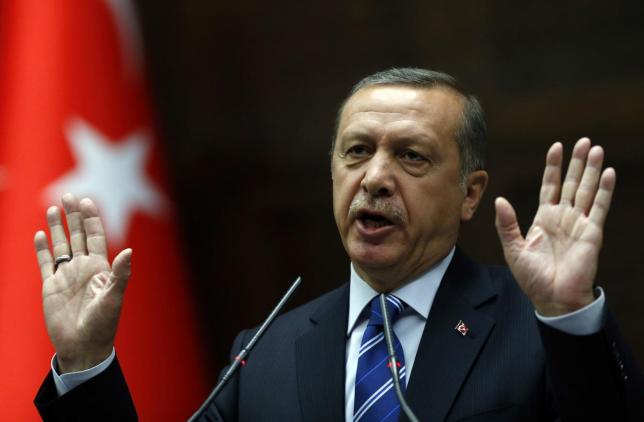 ---
ISTANBUL: Turkish President Recep Tayyip Erdogan on Thursday urged dozens of heads of state and government gathered for an Islamic summit in Istanbul to end sectarian divisions in the Muslim world and fight terror together.

Turkey is seeking to showcase its influence among the world's estimated 1.7 billion Muslims, particularly in lands once controlled by the Ottoman Empire, at the two-day summit of the Organisation of Islamic Cooperation (OIC) which it will chair for the next two years.

But the meeting bringing together over 30 leaders has been shadowed by sectarian-tinged conflicts in Syria and Yemen that have pitted Shia Muslims -- led by regional power Iran -- against Sunni Muslim powers like Saudi Arabia.

OIC urges Pakistan, India to sort out issues

"I believe the greatest challenge we need to surmount is sectarianism. My religion is not that of Sunnis, of Shiites. My religion is Islam," Erdogan said in his opening speech.

"We should be uniting. Out of the conflicts, the tyranny, only the Muslims suffer," he said, adding the summit meeting could be a "turning point" for the whole Islamic world.

Erdogan lashed out at Islamic State (IS) jihadists who seized swathes of Syria and Boko Haram Islamist extremists in Nigeria as two "terrorist organisations that are serving the same evil purpose."

He said that the OIC had accepted a Turkish proposal to set up a multinational police coordination centre for Islamic states to fight militants, to be based in Istanbul.

"We need to establish an organisation to further strengthen cooperation in the fight against terror," he said.

5-Day Conference: APHC chief invited to attend OIC summit

There is a security lockdown around the summit venue in Istanbul, the former capital of the Ottoman Empire from where the Sultans for centuries ruled Muslims from the Balkans to Arabia.

One the eve of the summit, Erdogan welcomed his guests with a tour of the Bosphorus aboard the luxury presidential yacht the MV Savarona which Turkey acquired in the 1930s for the use of its first post-Ottoman president Mustafa Kemal Ataturk.

Key guests greeted by Erdogan for the first session included Saudi King Salman and Iranian President Hassan Rouhani, whose countries are locked on opposing sides in the Syria and Yemen conflicts.

But Turkey's own policies in the Middle East have been controversial, with several Muslim states objecting to the Islamic-rooted government's backing of rebels in Syria.

In a sign of Turkey's growing relationship with its fellow Sunni Muslim power, King Salman of Saudi stood at Erdogan's side in the traditional pre-summit "family" photograph.

OIC chief seeks healing of Saudi-Iran rift

While the summit marks one of the most significant gatherings of heads of state for years in Istanbul, some high profile leaders like Jordan's King Abdullah and Egyptian President Abdel Fattah al-Sisi are notable by their absence.

Turkey's relations with Cairo have still not recovered from the 2013 ousting of Islamist president Mohamed Morsi, a close ally of Ankara, while ties with Amman are being tested by differences over Syria.

Erdogan had earlier lashed out at "Islamophobia" in Western states but also acknowledged the Muslim community was hit by sectarianism "that is creating ever greater friction".

In an op-ed for CNN ahead of the summit, he acknowledged that many young Muslims were vulnerable to the messages from Islamic State (IS) jihadists and Al-Qaeda "and this is an issue that Muslim countries cannot and must not remain indifferent to."

The run-up to the summit saw a landmark visit by King Salman to the capital Ankara which marked the dramatic improvement in ties between Turkey and Saudi since he came to the throne in 2015.

Erdogan went to Ankara's Esenboga airport to personally welcome the Saudi monarch on the tarmac and then gave him Turkey's highest honour for a foreign leader.

Saudi Arabia and Turkey both believe the ousting of President Bashar al-Assad is the key to solving the Syrian conflict and back rebel groups fighting his regime.

Analysts have warned however that Turkey needs to tread carefully in its alliance with Saudi Arabia, which is also overwhelmingly Sunni Muslim, so it is not seen as a sectarian union aimed at Shiite Iran.
COMMENTS
Comments are moderated and generally will be posted if they are on-topic and not abusive.
For more information, please see our Comments FAQ