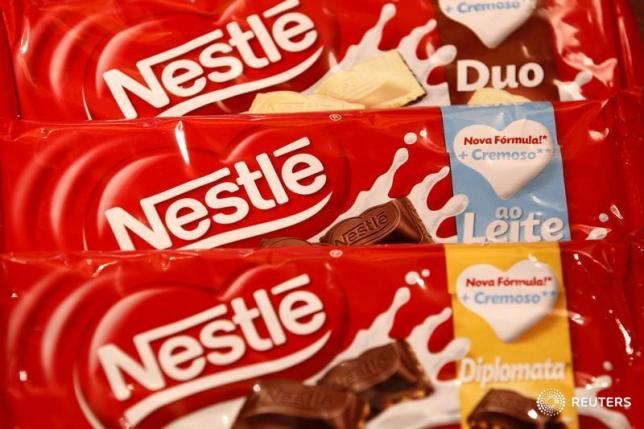 ---
Food group Nestle confirmed its full-year outlook on Thursday after first-quarter underlying sales growth of 3.9 percent beat expectations, driven mostly by growth in volumes rather than pricing.

Like its peers, Nestle is facing slower growth and more demanding consumers in emerging markets, notably China, but said it managed to gain market share in most of its categories and businesses.

Corporate results : Nestlé earnings go up 10.5% on better margins

"As anticipated, the first quarter continued the positive momentum in real internal growth, with softer pricing," the maker of Nescafe instant coffee and Pure Life bottled water said in a statement.

It confirmed its full-year outlook for organic growth, which strips out currency swings, acquisitions and divestitures, to be in line with 2015, with improvements in margins and underlying earnings per share in constant currencies.

Sales at the group based in Vevey on Lake Geneva rose to 20.9 billion Swiss francs ($21.6 billion), in line with forecasts in a Reuters poll. Organic growth slowed to 3.9 percent, down from 4.2 percent last year, but beat a 3.7 percent forecast in the poll.

Nestlé Pakistan posts 20% increase in profit

Nestle reported 3.0 percent volume growth in the quarter, slightly better than rival Unilever which had underlying volume growth of 2.6 percent.

Nestle shares were indicated to open 1.3 percent higher, versus a 0.4 percent rise in the Swiss market index. The maker of Gerber baby food said its volume growth accelerated compared to last year, thanks to strong performances in Europe, Southeast Asia and Africa. It managed to boost prices as well but that growth was slower than a year earlier.

Sales in the group's Asia, Oceania and Africa (AOA) zone accelerated to 2.1 percent, from 0.5 percent in 2015, recovering from a Maggi noodle recall in India last year.

Corporate results: Nestle Pakistan's earnings up 34%

"Asia zone swings positive for the first time in a couple of a quarters reflecting a quicker than expected rebound in Maggi in India as well as coffee and ongoing signs that China is on the mend," Kepler Cheuvreux analyst Jon Cox said in an emailed comment.

"Overall, Nestle has printed a decent number and consensus should nudge up. Given the disappointments of the last couple of quarters this is extremely encouraging," he said.