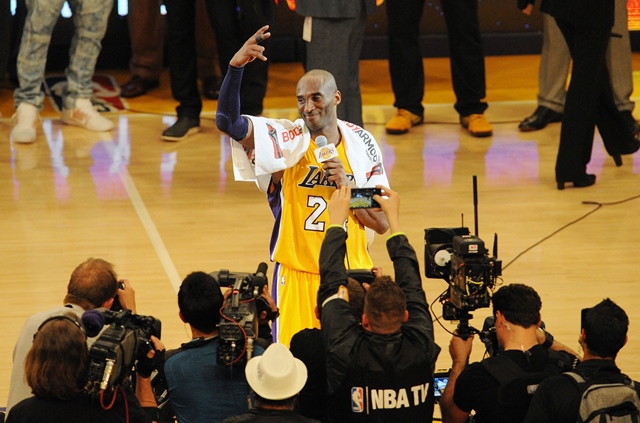 ---
LOS ANGELES: Kobe Bryant was left struggling to come to terms with his fairytale finale here on Wednesday after signing off from 20 years in the NBA with an extraordinary 60-point haul.

The 37-year-old summoned up every last drop of the competitive spirit that fueled his dazzling career to guide the Los Angeles Lakers to a 101-96 win over the Utah Jazz.

It was a Hollywood ending that the likes of Oscar-winning actor Jack Nicholson, watching from courtside, would have approved of.

Bryant admitted afterwards however he was still finding it hard to believe.

End of an era: Black Mamba's last sighting

"I can't believe this actually happened to be honest with you," he told reporters.

"This is kind of crazy to me. It's hard to believe it happened this way. It really is. I'm still in shock about it.

"The outpouring of support all night long, my former team-mates, my fans, my family. It's unbelievable."

Bryant, the competitor supreme who played on five NBA championship-winning Lakers teams, stopped short of describing it as the perfect ending however.

"The perfect ending would have been a championship," he said.

"Tonight was trying to go out, playing hard and putting on a show as much as I possibly could. It felt good to be able to do that one last time."

Bryant's performance saw him finish with a record. He is the oldest player in NBA history to score 60 points.

Being able to produce a display that harked back to his glory years was especially pleasing, Bryant said.

Ranveer Singh's tweets from NBA All-Star Game will leave you green with envy

"The coolest thing is that my kids actually saw me play like I used to play," Bryant said. "They were like 'Whoah Dad'. And I was like 'Yeah I used to do this pretty often'. And they're like 'Really?'. I'm like 'Dude -- YouTube it.'"

Bryant admitted the support of the fans had carried him through to the finish, when a 23-point blitz in the fourth quarter completed a remarkable comeback.

"The chanting, the support, the encouragement, I was just really really tired," he said. "I was just like 'I've gotta continue to push it because the fan support was tremendous. That's the thing I'll remember the most."

Bryant admitted meanwhile that he had almost succumbed to the emotion of the occasion.

"There were a lot of points there when I started getting emotional and when I first ran out of the tunnel. I had to catch myself," he said.