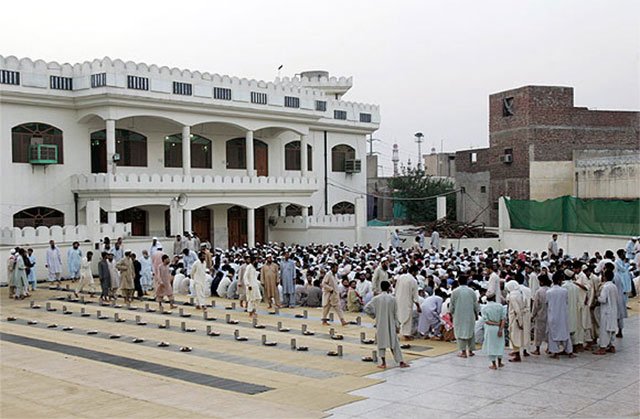 ---
ISLAMABAD/ LAHORE: With its own seal, a presiding officer or 'Qazi', the Darul Qaza Al-shari – Sharia Court – hears arguments from prosecution and defence with parties citing fatwas as case law in matters pertaining to family issues, civil matters, and even criminal acts. Above them hangs a poster which says the court facilitates the people regardless of their sect.

This is the parallel arbitration system which has been set up and operated by the banned Jamaatud Dawa (JuD) in Lahore and some other parts of Punjab. And while the poster urges Muslims of all sects to approach it, sources in the JuD say mostly the group's followers approach it.

JuD put on list of 'suspected' organisations




The courts are not new. JuD had first set them up in 1992 when its religious leaders established the Darul Qaza Alshari at the group's head office. To avoid action from state institutions, the JuD calls these courts "arbitration systems".




Yahya Mujahid, the group's spokesperson, told The Express Tribune that this system resolves matters of the public with the written consent of the parties involved and no one is compelled to abide by the order of the arbitration. But documents seen by The Express Tribune, including the poster pinned on the wall of one of the courtrooms, claims that the court's verdict carries weight equal to that of the Supreme Court and that these decisions are issued on the basis of arbitration allowed under national and international law.




Weightless verdicts

One of the biggest issues of this court is that despite claims of its weight, the people who receive summons from the court do not take it seriously and do not consider its verdicts binding.

Of the cases reviewed by The Express Tribune, one is of Sheikh Muhammad Azam from early 2016. The Lahore resident claimed that Khalid Saeed had defrauded him of Rs10,3 million but the police did not take action against the accused despite the fact FIRs were registered against him at the Samanabad and Shadman police stations. When Saeed allegedly threatened Azam and his two sons, he approached the JuD court. The court repeatedly issued summons to Saeed but the latter excused himself on every occasion.




CII rules women's protection law 'un-Islamic'

Saeed confirmed to The Express Tribune that he had received summons but did not respond to it considering them above the law.

Similarly, there is the case of a woman from 2015 who approached the court seeking custody of her child and Rs630,000 that her husband owed her. The courts summoned the husband and after five months of litigation directed him to hand over custody of the child to the woman and pay the promised amount. But the husband has yet to comply with the order and the Qazi of the court has expressed his helplessness in the matter.

Imitation

Advocate Makhdoom Tipu Salmaan observed that the Darul Qaza Alshari resemble that of a constitutional court. This is unlike other mediatory formats, he said adding that it seemed these courts are in negation of the existence of the state and negation of its system.

PPP to take up matter

Pakistan Peoples Party lawmakers in the national assembly want the lower house of Parliament to take up the matter of parallel justice system by JuD.

MNAs Dr Nafisa Shah, Dr Azra Fazal, Mir Aijaz Jakhrani, Syed Ghulam Mustafa Shah and Dr Shazia Sobia have submitted a 'calling to attention notice' in the National Assembly Secretariat in this regard on Wednesday.


Published in The Express Tribune, April 14th,  2016.
COMMENTS (10)
Comments are moderated and generally will be posted if they are on-topic and not abusive.
For more information, please see our Comments FAQ