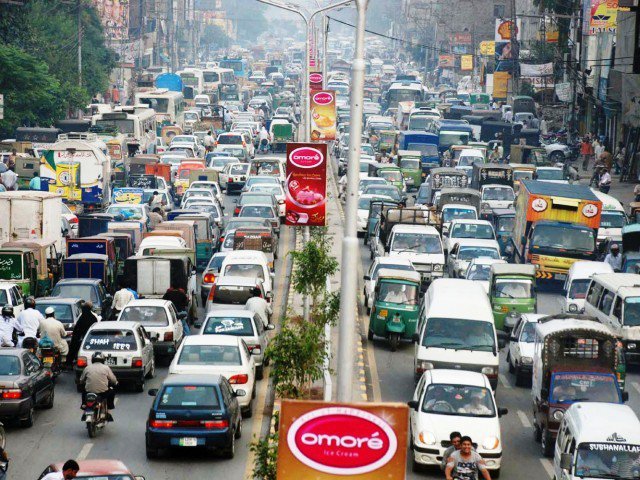 ---
LAHORE: Traffic across the provincial metropolis on Wednesday remained stationary due to VIP movement, a protest and the ongoing construction of the Orange Line Metro Train (OLMT) project.

Traffic ground to a halt at The Mall due to a YDA protest demonstration. Scores of doctors rallied from Mayo Hospital to the GPO Chock in connection with the demonstration. The protest proved to be a great inconvenience for a bevy of commuters who remained stuck on The Mall for hours in the scorching summer heat.

Similarly, traffic jams were witnessed across Charing Cross, Queens Road and other adjoining thoroughfares due to a Provincial Assembly (PA) session and VIP movement on The Mall. This consequently increased congestion on Ferozepur Road, Canal Road and Jail Road with traffic jams being witnessed there at peak hours. Infuriated commuters were seen engaged in heated arguments with their counterparts across various places.

Motorists told The Express Tribune that the VIP culture had wreaked havoc on citizens' lives. Trader Zahid Chughtai said traffic jams on The Mall were commonplace whenever the PA was in session. He said lawmakers tended not to obey traffic regulations. Chughtai said protests on The Mall added to traders' and commuters' woes. He said the frequency of protests was on an upward trajectory now that the PA's annual budget session was underway.

GT Road resident Ali Reza said that while the metro train project was a great initiative, its construction posed a great problem for those residing and travelling along its route. He said it was unable to navigate along the project's route due to traffic woes. "I am not able to fathom why small roads running parallel to its route have been dug up. It seems that the government wants to build the project before allocations from the financial year's budget lapse on June 30," Reza said.

Motorcyclists Saeed and Rizwan said though ongoing development work had increased traffic woes dust was a more pressing problem for motorcyclists these days. "We easily traverse even congested roads but we cannot escape from dust and air pollution in the city due to the construction of the OLMT project. It is causing respiratory problems among citizens, especially among motorcyclists," they said.  The motorcyclists added that the government should pay attention to increasing pollution otherwise the city would have a metro train but become devoid of healthy passengers to use the service.

Published in The Express Tribune, April 14th, 2016.