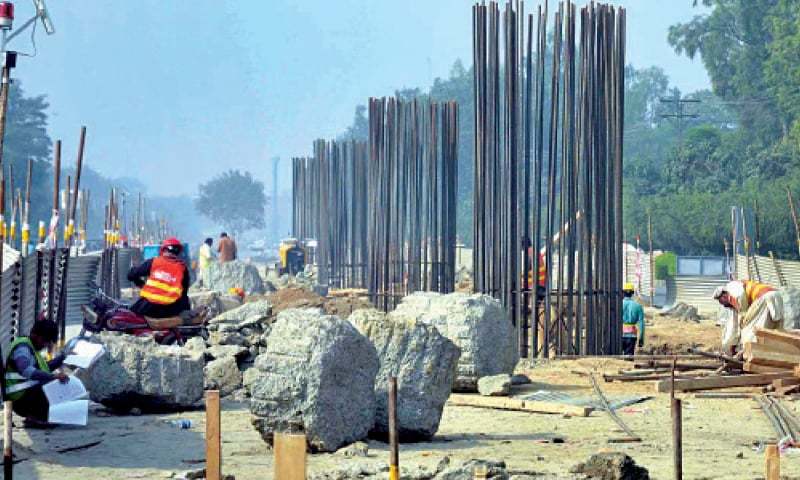 ---
LAHORE: Erstwhile owners of land acquired in connection with the Orange Line Metro Train project and citizens on Tuesday extended support to Chief Minister Shahbaz Sharif over the project.

They pledged support while speaking at a seminar on the project held at the Expo Centre. The citizens hailed the chief minister's commitment to public welfare and vowed to fight those opposing the project.  Muhammad Lakha Bhatti, an aged worker, said he now commuted between Shahdara and elsewhere in Rs40 (using the metro bus). "My children and I have food on the table now," he said. Bhatti said travelling by bus was expensive earlier and replete with difficulties. He said the metro bus had rid citizens of the problems.   Bhatti said his entire family prayed for the chief minister. "Sharif has now launched the train project. We are willing to make sacrifices for it but some people do not want to see the underprivileged prosper and facilitated," he said. Labourer Dervaish Khan, a Wahdat Road resident, said he used to travel to Bilal Ganj in Rs80 earlier. He said the metro bus had facilitated him in this regard. Khan said he could only pray for the chief minister. He said Sharif was the only real representative of the underprivileged who was also striving to develop the nation. Khan called on the opposition to desist from impeding his work. Chauburji resident Zunaira Zaheer, a female student, travelling before the introduction of the metro bus was a hassle. She said it was an arduous undertaking. Zaheer said it was also devoid of any sense of safety. She said the introduction of the metro bus had facilitated citizens. Zareen prayed for the train project's success.

Ferozepur Road Bank Stop resident Muhammad Aslam said he was employed as a baker in the Data Darbar area. Earlier, he said, he had been travelling by wagons which was inconvenient. Today, Aslam said, he travelled in comfort using the metro bus. Aslam also prayed for the chief minister and the metro train's project.

Awan Market resident Aneela, who works at a boutique in Ichhra area, said the underprivileged could not even harbour the thought of travelling in air-conditioned buses. With the metro bus, she said, Sharif had won the hearts of the poor. Ferozepur Road resident Shamim Akhtar, a mother-of-four, said she used the metro bus to go to work in Rs20. Johar Town resident Amina Munir, an expatriate Pakistani, said her family was initially dejected to learn that some of the land they owned would be procured in connection with the train project. She said they had later been told by MPA Saiful Mulook that they would be adequately compensated. Munir said they had later visited a compensation camp and seen everybody busy at work. Pledging support to the chief minister, she urged him to not be deterred by a handful of the city's elite.

Thokar Niaz Beg resident Ashraf Awan said half of his plaza was situated on a piece of land that had to be procured for the train project. He said he had initially sought legal recourse in this regard. However, Awan said, the compensation awarded had exceeded his expectations. He said he had been treated in a befitting manner at a compensation camp where cheques had been given to him in three hours.Noted broadcaster Sohail Ahmed alias Azizi branded those opposing the project as "mobile phone intellectuals. He said these were the people who flocked to places equipped with Wifi internet. Ahmed said the truth was the truth. He said opposition for the sake of opposition should stop.

Published in The Express Tribune, April 14th, 2016.
COMMENTS
Comments are moderated and generally will be posted if they are on-topic and not abusive.
For more information, please see our Comments FAQ