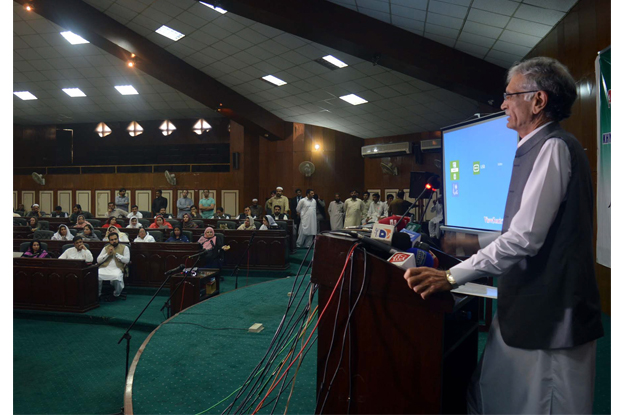 ---
PESHAWAR: The chief minister on Wednesday walked out of the District Assembly Hall without answering the question of a fellow party member – Nazuk Bibi, a councillor for Town-I. Local government representatives had gathered at the hall for a seminar on Right to Public Services Act, 2014.

After the chief minister gave his speech, Town I Councillor Nazuk Bibi from Pakistan Tehreek-e-Insaf raised her hand to ask a question, but Chief Minister Pervez Khattak made a swift exit without listening to her. When she expressed displeasure over this, Kalsoom, another councillor, silenced her using harsh words.

Sidelined

While talking to The Express Tribune, Nazuk Bibi said councillors would resign if the chief minister does not pay heed to problems of town members.

"We are workers of PTI and I can sacrifice my life for Imran Khan," she said. "The people who have elected us from among several others are expecting a lot from us, if we are not empowered then it is better for us to resign."

She added, "Our chief minister doesn't give us the time – not at his office, not in this hall – it is really embarrassing that he did not give us time to talk."

Another town member, Rukhmeena Khursheed, said all rights have been snatched from the town members and given to the district members. She added the social welfare and transport departments were under the town members but are now in the hands of district members.

"We spend time to serve our people but nothing is left to us."

Unhappy with LG

Before the disturbance over the Q&A, the chief minister, expressed dissatisfaction with the local government system.

"We are bringing reforms which would empower local government members who would be authorised to transfer senior police officials and even those in the district administration."

He also accused previous governments of destroying the country.  Khattak said the PTI-led government introduced reforms in the health and education sectors.

He also promised to hold a meeting with Water and Power Development Authority officials next week to take a bold step towards ending power shortages.

Khattak spoke about the monitoring system in government institutions, saying it was shameful that teachers and doctors were marking their attendance without working. "We had no choice, but this [to install monitoring devices] as they were not performing their duties with honesty."

Right to services

The seminar was held to educate the district members about the Right to Public Services Act, 2014. This act is meant to ensure delivery of public services to the citizens of the province within stipulated time periods. For instance, if a person who wants to lodge an FIR at a police station but is hindered by the SHO, she or he can appeal to the DPO. If the problem remains unsolved, she or he has the final option to go to the Right to Public Services Commission.

Right to Public Services Chief Commissioner Azmat Hanif said the number of complaints received by them was increasing with an increase in awareness about the act.

"Through this act, the public will get 15 services, including the issuance of domiciles, death and birth certificates, and driving licences."

A short skit was also presented at the seminar to show the alleged state of government institutions before PTI came into power.

Published in The Express Tribune, April 14th,  2016.
COMMENTS
Comments are moderated and generally will be posted if they are on-topic and not abusive.
For more information, please see our Comments FAQ