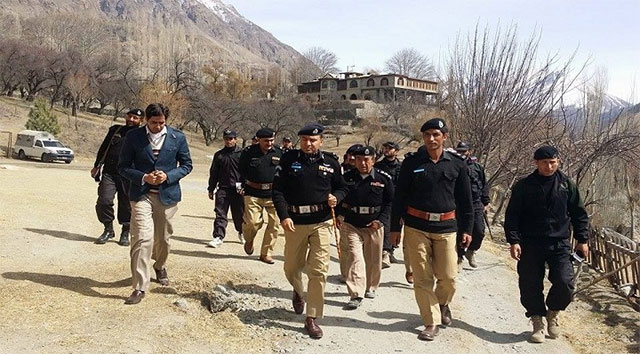 ---
GILGIT: In a bid to provide security to passengers, Gilgit-Baltistan police has started a programme under which private security guards are being trained to handle weapons. Once trained, the guards will be required to accompany buses travelling on Karakoram Highway (KKH) from G-B to other cities.

Police spokesperson Mubarak Jan said on Wednesday the first batch of trainees comprises 33 guards employed by Northern Areas Transport Corporation and Silk Route Bus Service. The guards are at Police Training College, Gilgit-Baltistan for a two-week-long session.

He added, "The first phase of the programme was inaugurated by G-B IGP Zafar Iqbal Awan." Jan said, "More guards will be trained in the second phase to enable them to deal with emergencies on KKH – the only route that connects G-B with the rest of the country."

Travel restrictions

The decision was part of an arrangement in which the convoy system was withdrawn earlier on February 3, 2016 putting an end to the travel woes of passengers who frequented the route. Under the convoy system, which existed from 2012 to 2016, 50 to 100 vehicles were required to move in groups from Gilgit-Baltistan's Diamer district till Besham, Shangla in Khyber-Pakhtunkhwa. The convoy was escorted by K-P's law-enforcement agencies.

KKH is the only route that connects G-B with the rest of the country. However, the dilapidated highway and the convoy-system caused the 15-hour Gilgit-to-Rawalpindi journey to stretch to 22 hours.

Published in The Express Tribune, April 14th,  2016.
COMMENTS (2)
Comments are moderated and generally will be posted if they are on-topic and not abusive.
For more information, please see our Comments FAQ