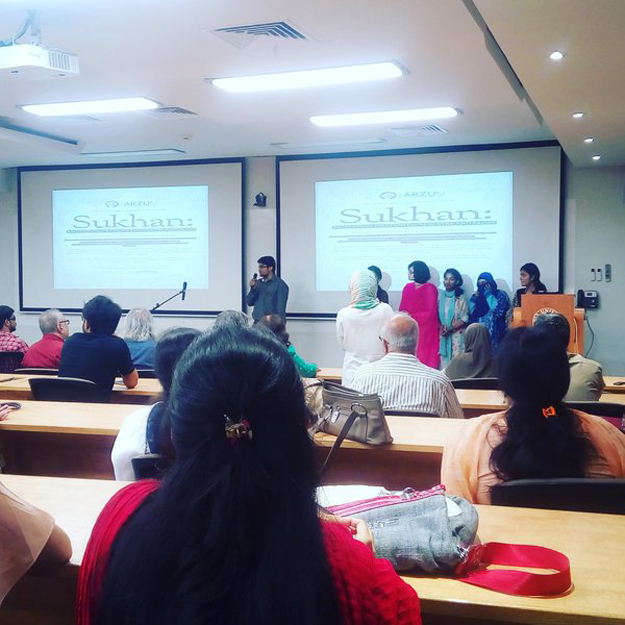 ---
KARACHI: It was an evening where the young and budding literati of Karachi stood in front of their inspirational mentors to showcase their work.

'Sukhan: Recitation, Oration From Poetry and Prose', a collaboration between Zau, a bilingual magazine taken out by the students of the University of Karachi (KU), and Habib University's Arzu Centre was held at Habib University on Tuesday evening.

Indian poet pens tear-jerking message for Pakistanis

The event well-attended by students of both universities, their parents, as well as popular figures of the literary world, and was marked by the students showcasing their oratory and writing skills. Zoya Anwer, a graduate of KU's English department, read out her poem 'I am often told', which is based on the struggles women have to bear because they are told to be thankful for what they have instead of yearning for more. Another group of students acted out on Mark Twain's Encounter with an Interviewer.

Arfa Ezazi, another student from the same department read out her professor's Urdu translations of D.H Lawrence's 'Piano' and Shakespeare's Sonnet 29.

Poet Afzal Ahmed Syed said that after listening to the works of the young writers and poets he is optimistic for the literary future of the country. "We don't know how will the next generation think. In newspapers too, we only get to read about our contemporaries," he lamented. Commending the students, he said that the selections of their orations as well as their own original works were very nice.

A session of Urdu poems and essays was also held, in which the works of Mushtaq Ahmed Yousufi and Patras Bukhari were recited. Students from various departments shared their own poetry, which was also well received by the audience.

Poet and writer Dr Satyapal Anand, who was the chief guest at the event, expressed his pleasure at being a part of the gathering.

Naat poetry book: Poet wins presidential award for third time

"It was a greater pleasure for me because I felt young too. I felt like a student," he laughed. Sharing his insights on Urdu recitations, he said that he noticed a trend towards prose poems, something that was popular at least a quarter century ago. "Never have I written prose poetry," he admitted.

Writer and director of the Arzu Centre Asif Farrukhi and Fatima Hasan of Anjuman-e-Taraqqi-e-Urdu also attended the event.

Published in The Express Tribune, April 14th, 2016.