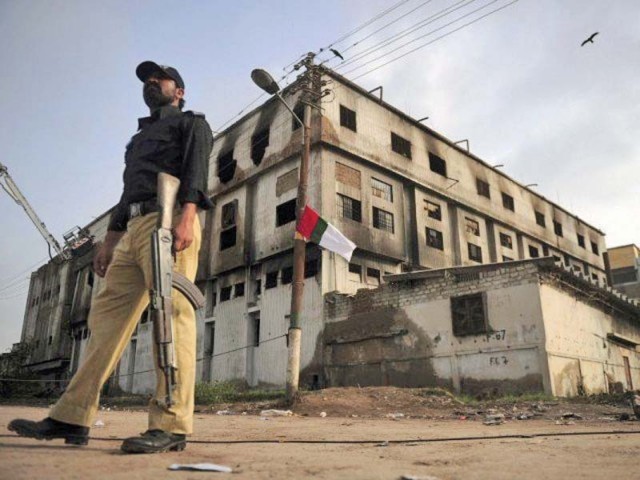 ---
KARACHI: The International Labor Organisation (ILO) has begun the mediation process to resolve the long-term compensation issue between the victims of the Baldia factory fire and a German company which was the 'predominant' buyer of the products of the ill-fated factory, said Karamat Ali, executive director of Pakistan Institute of Labour Education and Research (Piler), on Wednesday.

He added that for this purpose, the ILO was planning to call a multi-stakeholders consultation to discuss the framework of the long-term compensation for the victims as committed by German company KiK in its agreement with Piler.

Around 260 people were killed in the fire at Ali Enterprises garment factory on September 11, 2012. According to Piler, KiK, as part of the agreement, has already paid $1 million to the victims' families as immediate relief but the much-needed long-term compensation issue was still lingering.

Ali, accompanied by other human and labour rights activists, was addressing a press conference in which he announced the marking of April 13, 2016 as the 'global day of action' for justice for the factory fire victims.

Speaking to The Express Tribune, he said that the decision to mark April 13 was taken during a recent international labour conference in Kathmandu, Nepal.

On a question about some other organisations which have pledged worldwide protests on April 14 on the same issue citing the same decision, he said that the date was what he announced.

"It is their discretion to mark whatever day they want," he said.

He pointed out that a memorandum regarding the global day had also been submitted to the German consul-general in Karachi, Rainer Schmiedchen, to request his government to expedite the process of calculating and disbursing the long-term compensation by KiK, in accordance with the agreement.

On this occasion, he also presented three points of action: justice for the victims by punishing those responsible, their rehabilitation by urging KiK to fulfill its commitment and implementation of ILO conventions and ensuring labor rights to prevent any similar incident from occurring.

Published in The Express Tribune, April 14th, 2016.