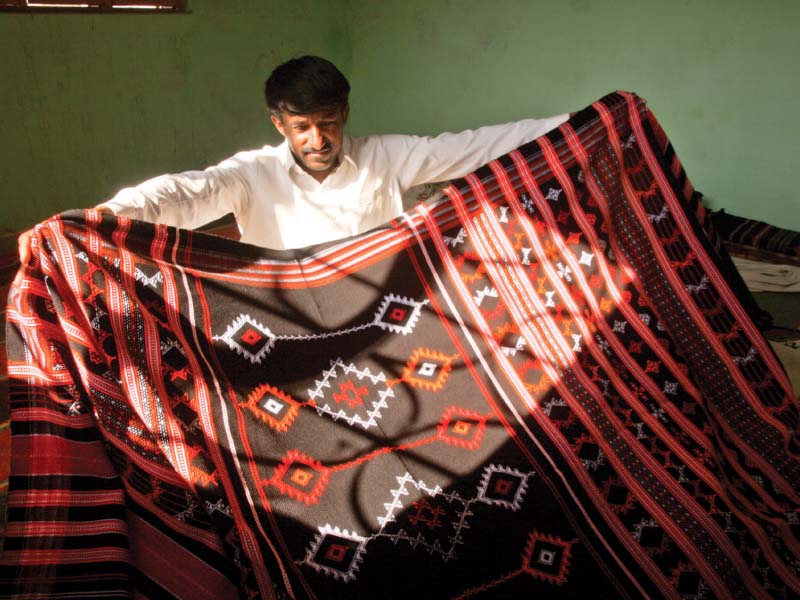 ---
MITHI:



Yet another death has brought Tharparkar to the limelight once again. This time it is the demise of a livelihood.




The hand-made shawls from the desert area used to be in high demand in both domestic and international markets, providing a skilled occupation to the residents of Tharparkar who were mostly engaged in cattle rearing. The demand for these shawls has now declined, bringing down with it this unique skill set of the Tharis.

'Need to raise awareness about trade opportunities'

"You would find one or more than one khadi [manual weaving loom] in each household in almost every village in Thar," recalled 30-year-old Vishan, who inherited this shawl-making profession from his father.

Khadi is a five- to six-feet-long machine made of wood. It is fitted with needles to hold the thread and levers to let the handler operate and control the interlacing. "My father learned this art from my grandfather, who learned it from my great grandfather," he explained. "I don't know if my great grandfather was taught by his father or not," he chuckled, adding that it is an occupation going far back into multiple generations. 




Replaced by machines

The moustached Vishan, who looks much younger than his actual age, admitted the profession gained so much popularity in Thar back in the day since it required low investment and yielded high profits. A large number of people were attracted to it but Vishan doubted the trend will continue.

"The business has not remained as lucrative as it was in the past," he regretted. "Since, the industrial units have taken over and are producing such products en masse, the prices have systematically gone down," he explained.

It is hard for a worker to earn enough profit from this business to be able to make both ends meet, Vishan pointed out, adding that the workers are drifting away from this profession to others, such as working on construction sites in big cities. "There they can easily earn Rs400 to Rs600 a day to keep their kitchens running," he said. "On the other hand, a shawl maker would earn only Rs250 to Rs300 a day on average."

Skills-development university in the pipeline




Dying art

The shawl-making profession may be fading away in Tharparkar but there are still a few villages that have installed khadis.

Tabo Meghwar, a relatively well-maintained village located 50 kilometres away from Mithi, is one such area. There is deafening silence in the village save the screams of peacocks and the unique sound that a khadi makes, similar to the hammering of a wood. There are around 140 houses in this village and every second house has one or more khadi.

"This is the only art and occupation that our family has been engaged in for generations. In our family system, a father would teach his children this operation so they become his helping hands," said Vishan, father of three. "But I don't want my kids to learn it," he admitted. Accepting that shawl-making is his family's legacy, Vishan knows the profession does not promise a good future for his children.




Women participation

Apart from managing the household, the women of Tabo Meghwar contribute to the family income by making rillis [patchwork quilts] during their free time. The rillis of Thar are unique as the women add cut-outs of camels and peacocks on them.

Handicraft haven: Women entrepreneurs shine at trade fair held in city

Rajo, an elderly woman, says that it takes around two to three months to complete one piece. "We do this work when we are done with all the house chores. That is why it takes months to complete," she said.

The rates of these comforters vary from piece to piece. Each is different from the other. Some buyers prefer the art on these comforters while some use it to keep warm during winters. No matter what the use, the result is the same - these makers of rillis and shawls do not get enough in return. The villagers demanded the government take an interest in their problems and help them sustain the dying profession. "Inflation and other problems are forcing Thari labourers to switch to other jobs that they don't know anything about," Vishan pointed out. "If the government puts our occupation matter on its agenda, the situation can improve. All we need is training to operate modern weaving machines, investments to buy them and easy access to market to sell our products," he suggested.

Published in The Express Tribune, April 14th, 2016.