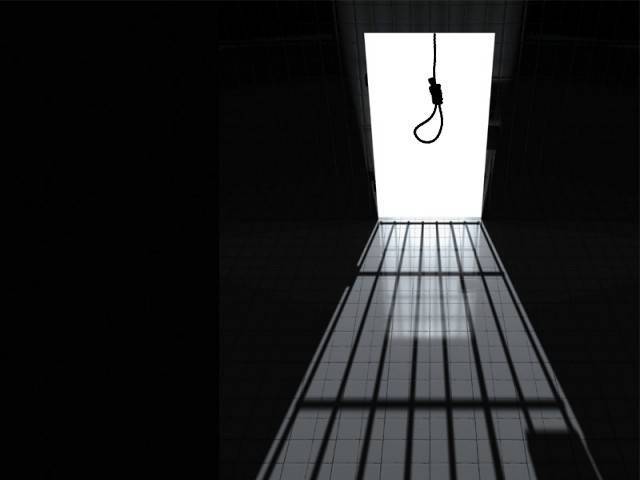 ---
MULTAN: Pakistan on Wednesday hanged four more prisoners convicted of murder despite international criticism over its surging use of the death penalty.

Amnesty International last week described Pakistan as the world's third most prolific executioner after China and Iran, with 326 hangings last year.

Pakistan executed 332 after reinstating death penalty: report

Wednesday's executions took place in the cities of Multan,  Jhang and Sialkot in Punjab province and in Larkana in Sindh province.

Anwarul Haq was executed in Multan for murdering his brother over a land dispute in 2000, senior prisons official Chaudhry Arshad Saeed Arain told AFP.

Ghulam Farooq was hanged in Sialkot prison for murdering two women and a man due to a family feud in 1999.

Pakistan, Saudi Arabia fuel surge in worldwide executions to 25-year high

Muhammad Irfan was hanged in Jhang for killing a woman while robbing her home in 2006, Arain said, adding that eight more prisoners were likely to be hanged in Punjab on Thursday.

In Larkana Waris Mir Bahr was hanged for the 1995 murder of a Pakistan International Airlines employee during an attack on an airlines van carrying cash, prison officials said.

Pakistan, with 324 executions in 2015, ranks third worldwide

Paksitan ended a six-year moratorium on the death penalty after Taliban attackers gunned down more than 150 people, most of them children, at a school in Peshawar in December 2014.

Hangings were initially reinstated only for those convicted of terrorism, but later extended to all capital offences.
COMMENTS
Comments are moderated and generally will be posted if they are on-topic and not abusive.
For more information, please see our Comments FAQ