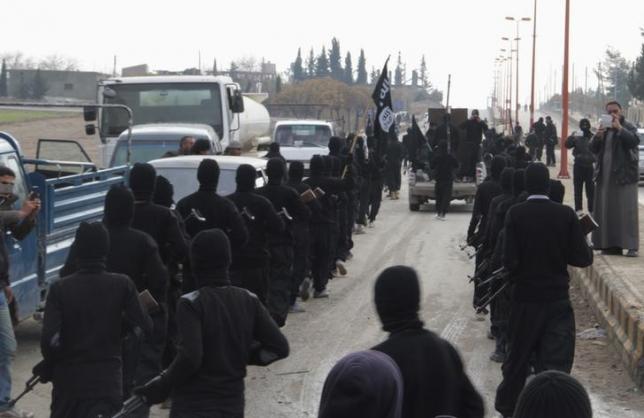 ---
WASHINGTON: The Islamic State group's (IS) ranks have been pared back by international and local military action in Iraq and Syria to their lowest level since Washington began monitoring the group, a senior official said Tuesday.

The comments from deputy Secretary of State Antony Blinken came one day before President Barack Obama was due to convene his national security team at CIA headquarters to take stock of the anti-IS fight.

New US base in Iraq draws more Islamic State fire, militia threat

"Working by, with and through local partners, we have taken back 40 percent of the territory that Daesh controlled a year ago in Iraq and 10 percent in Syria," Blinken told US lawmakers in prepared testimony.

"In fact, we assess Daesh's numbers are the lowest they've been since we began monitoring their manpower in 2014," he added, using one of three terms US officials use interchangeably to refer to IS.

Blinken did not put a new figure on the size of the militant group's fighting force in his statement to the Senate committee overseeing funding for the State Department's program to counter violent extremism.

But in September 2014, the last estimate to which Blinken referred, a US intelligence official told AFP that the CIA believed the group could put between 20,000 and 31,500 fighters in the field, both foreign fighters and local recruits.

Since then, US-backed Iraqi and Kurdish forces have pushed IS fighters back from the cities of Tikrit and Ramadi and taken territory in northern Syria, while Syrian forces receiving Russian support have recaptured the Syrian city of Palmyra.

On Wednesday, Obama and his top aides are set to evaluate the progress made so far in the anti-IS fight and weigh proposals for upping the pressure on the militants.

"The president has asked them to come to him with suggestions for how it is possible to reinforce those elements of our strategy that are showing the most success," White House spokesperson Josh Earnest told reporters Tuesday.

When asked about a possible increase in the number of US troops in Iraq, Earnest refused to say if any announcements were on the horizon, saying only that Obama would make a statement after the meeting.

Islamic State expelled from Iraq town Al Baghdadi: US

"It's not uncommon for the president to make decisions in the context of these meetings," he said.

Washington has led an international coalition against the IS group in Iraq and Syria since August 2014.

The United States, which withdrew its forces from Iraq in 2011 after eight years of war, officially redeployed 3,870 troops to the insurgency-wracked country in recent months.

But the actual number is likely about 5,000, according to media reports.
COMMENTS
Comments are moderated and generally will be posted if they are on-topic and not abusive.
For more information, please see our Comments FAQ