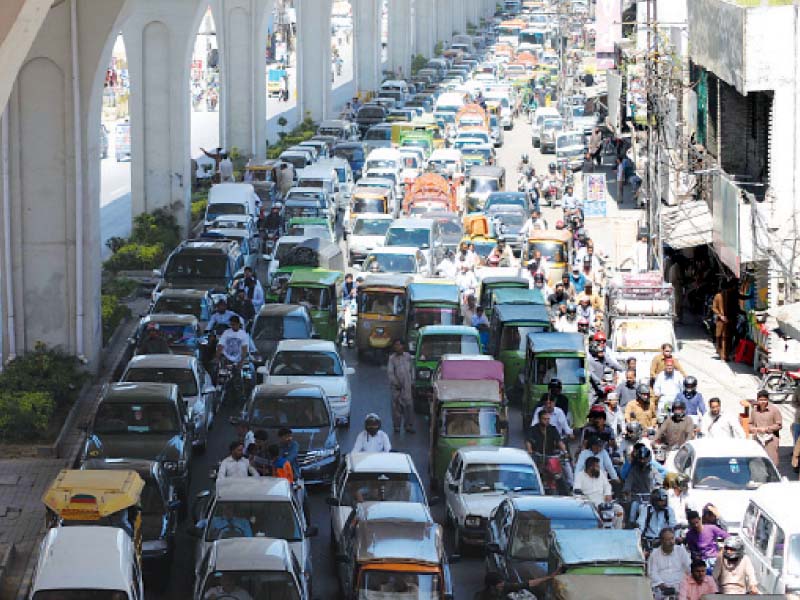 ---
RAWALPINDI: Traders and businesspersons blocked Benazir Bhutto Road on Tuesday to protest against the traffic police's decision to ban all kinds of parking on a section of the road.

Rawalpindi City Traffic Police (CTP) on Monday announced to ban all kinds of parking on either side of the road from Marir Chowk to Benazir Bhutto Hospital (BBH) to ease traffic congestion on the road.

The traders, however, took to the street saying the ban would affect their business. The protesters blocked the road, the busiest road in the city, at Committee Chowk and BBH, chanting slogans against the traffic police.

They burnt tyres and demanded withdrawal of the ban on parking.

The protest led to massive traffic jam on road.

Haji Sher Zaman, who is chairman of Anjuman-e-Tajran Murree Road, said they supported efforts by the traffic police to regulate traffic and remove encroachments on the road but he said the ban on parking was going to affect their business.

He questioned where the visitors and traders would park their cars if not by the roadside. Zaman also said that the ban was not going to solve the traffic problems on the road.

The traders called off their protest after negotiations with SSP (operations) Karamatullah Malik. Traders said the issue would be taken up during their meeting with district coordination officer (DCO) on Thursday.

Talking to The Express Tribune, Sherzaman said the solution to traffic congestion on Murree Road was to build alternate roads, like the stalled Leh Expressway. He said traffic signals at Liaqat Bagh and Marir were also causing traffic jams on the road.

City Traffic Officer (CTO) Shoaib Khurram Janbaz said public and commuters had appreciated CTP efforts to address traffic issues on the road.

The traffic police have deputed 46 wardens between Marir Chowk and BBH to regulate the traffic.

Published in The Express Tribune, April 13th, 2016.
COMMENTS
Comments are moderated and generally will be posted if they are on-topic and not abusive.
For more information, please see our Comments FAQ