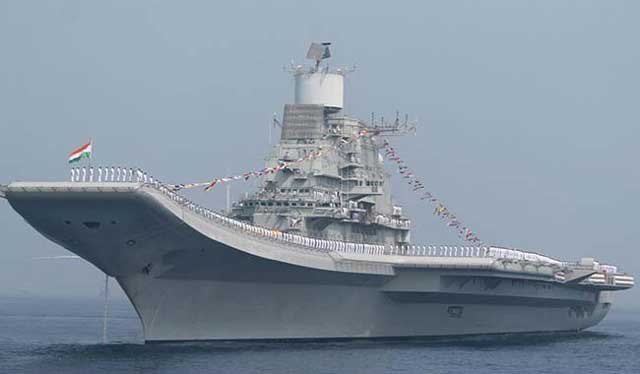 ---
NEW DELHI: US Defense Secretary Ashton Carter and his Indian counterpart agreed Tuesday to strengthen their cooperation on maritime security, as concerns grow in Washington over Beijing's growing military ambitions.

Carter is in New Delhi to bolster a strategic relationship Washington considers crucial in the face of what it sees as China's rising assertiveness, particularly in the South China Sea.

"Both sides agreed to strengthen cooperation in the area of maritime security," said a joint statement issued after Carter held talks with Indian Defence Minister Manohar Parrikar.

India, US closer to pact to share military logistics: officials

The two sides "reaffirmed the importance of safeguarding maritime security and ensuring freedom of navigation and over flight throughout the region, including in the South China Sea," said the statement.

Washington has increasingly turned its focus to Asia as it tries to counter China's growing assertiveness in the South China Sea, and is eager for India to play a greater role in its network of regional defence alliances.

Regional superpower China is expanding its deep-water naval presence and staking a claim to disputed areas of the South China Sea and the East China Sea.

Beijing claims almost all of the contested South China Sea, which is important for international shipping, and has in recent months built massive structures including radar systems and an airstrip over reefs and outcrops.

US lawmakers 'gravely concerned' at growing intolerance in India

It has also courted countries in the Indian Ocean, pouring money into the Maldives and Sri Lanka to the annoyance of New Delhi, which regards those countries as part of its sphere of influence.

A senior US defence official, speaking on condition of anonymity, said China was "operating more frequently both throughout Southeast Asia and in the Indian Ocean", something both Washington and New Delhi were "watching closely".

Carter will also hold talks with Prime Minister Narendra Modi during the three-day visit, aimed at shoring up security and defence ties with regional power India.

Modi, who enjoys close ties with US President Barack Obama, has in the past criticised what he called China's "expansionist mindset".

Carter said after his meeting with Parrikar that the two countries had agreed "in principle" to share and exchange military logistics, a deal which has been in the pipeline for years and would allow the two countries to expand military cooperation.

But there was no final agreement on a series of deals under negotiation.

India, the world's biggest arms importer, wants access to US technology so it can develop sophisticated weapons at home -- a key part of Modi's "Make in India" campaign to boost domestic manufacturing.

New Delhi has historically relied heavily on Russia for arms imports, but is now seeking US help to develop its own new-generation aircraft carriers.

India wants American know-how on building more sophisticated launch technology that would allow it to deploy heavier aircraft on the vessels than existing carriers allow.

The US is also hoping to sell its F-16 or F-18 fighter jets to India as part of a major co-production deal involving more than 100 planes which would be partly manufactured in India.

The two countries had a long history of mutual suspicion during the Cold War, when non-aligned India developed closer ties to the Soviet Union, while the US allied with Pakistan.

But Modi's election in May 2014 gave fresh momentum to negotiations on a number of issues that had become bogged down under the previous administration.

"The courtship began more than a decade ago, but in the last two years we have really seen things move a lot faster on a range of things," said Rick Rossow, India specialist at the Center for Strategic and International Studies in the US.
COMMENTS (2)
Comments are moderated and generally will be posted if they are on-topic and not abusive.
For more information, please see our Comments FAQ