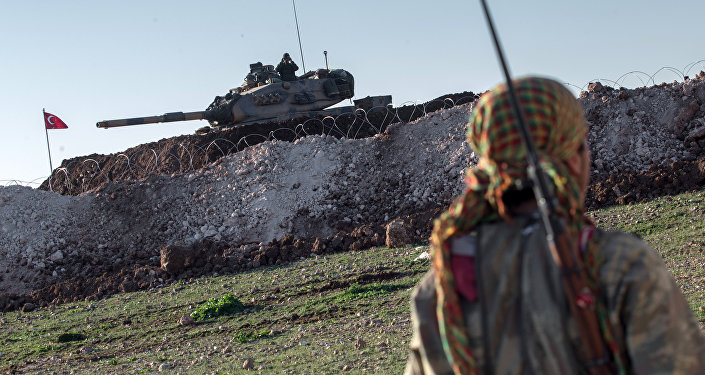 ---
ANKARA: Turkish artillery hit Islamic State (IS) targets in neighbouring Syria on Tuesday, after rockets landed in a border town, wounding several people, an official said.

"The Turkish army has retaliated in kind after rockets fired from IS-controlled territory hit the border town of Kilis," the official told AFP, speaking on condition of anonymity.

The state-run Anatolia news agency reported that the Turkish armed forces struck IS targets around the northern Syrian town of Azaz in Syria's Aleppo province on Monday and Tuesday.

US Embassy warns citizens about 'credible threats' in Turkey

Turkish artillery fired shells from howitzers positioned on its border with Syria as part of military rules of engagement, Anatolia said.

Two rockets fired from northern Syria had earlier hit the centre of Kilis in the second straight day of firing on Tuesday, leaving eight people wounded.

One of the rockets landed in an empty field and the other hit a four-storey hostel, Anatolia said.

They landed in the centre of Kilis -- just a few kilometres north of the Syrian border -- at 0640 GMT on Tuesday, the private Dogan news agency reported. Medical teams were dispatched to the scene.

German spy chief says Islamic State wants to attack but no firm plan known

At least four people were wounded when five rockets fired from northern Syria hit the town on Monday.

The Turkish official told AFP that the rockets were fired from IS-held territory.

Turkish armed forces "responded immediately within the frame of rules of engagement and struck Daesh positions," Prime Minister Ahmet Davutoglu told his party's lawmakers in parliament, using another name for the IS group.

He said the government had taken all measures to ensure the safety of the Turkish people.

"We are ready to take any step when needed," he said.

UN parachutes food into Syrian city besieged by Islamic State

The exchange of fire comes after the IS wrested back control of the town of Al-Rai, near Turkey, which rival rebels had captured last week.

Neither the Al-Qaeda-affiliated Al-Nusra Front nor IS are included in a truce brokered by the United States and Russia that came into force on February 27.

In mid-February, Turkish artillery had also shelled targets of the Syrian Kurdish Democratic Union Party (PYD) inside Syria, with the military saying it was responding to incoming fire.