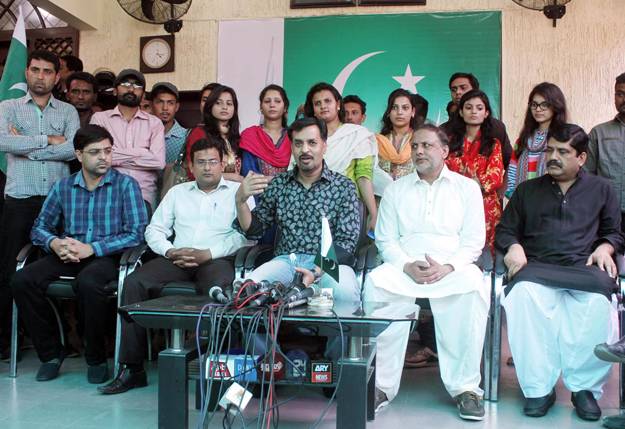 ---
KARACHI: Muttahida Qaumi Movement (MQM) also joined the race of new inductions on Monday as a former parliamentarian of Pakistan Muslim League-Quaid (PML-Q) announced her decision to join the party at a press conference.

Meanwhile, at Mustafa Kamal's residence, former members of MQM's organisational set-up joined his Pakistan Sarzameen Party.

During Monday's presser at Kamal's residence in DHA, commonly known as Pakistan House, a low-profile member of the MQM Tanzeemi Committee and former sector in-charge, Mohammad Raza, and former All Pakistan Mohajir Students Organisation (APMSO) chairperson Waheeduz Zaman announced their decision to join his party along with their loyalists.

A few hours before Kamal's press conference, Zaman's basic membership of MQM was cancelled for violation of party discipline. Also for the first time, the former Nazim attacked another party leader apart from Altaf Hussain. Lashing out at the party convener Nadeem Nusrat, Kamal said that he along with Altaf Hussain were involved in killing 10,000 workers of their party.

"For the last 20 years, Nadeem Nusrat has been forming teams in the party, and one team has been involved in killing the other," he said. Referring to Nusrat, he said that he was sober and intellectual and asked him why he was doing all this.

Kamal said that at the MQM's general workers meeting on Sunday, which was being held secretly, Altaf Hussain given instructions to form teams, to cause lawlessness. "Even the women's wing has been told to form a team."

He said Altaf Hussain or his brother in Canada or another one in Chicago should come and lead these teams or send their relatives instead of involving young men, who will end up being used as a tissue paper and will be made to eliminate one another at the end. The dissident urged the government to form rehabilitation centres for those MQM workers who have become target killers and RAW agents.

Meanwhile, Raza said that he has been in London since 1998. He distanced from the party soon after witnessing 'a lot of things', he said. He called upon the workers who had gone underground to come back to Karachi, saying that he also came back after 16 years.

Zaman said that they had given up their youth but, in return, they were made to collect fitra and Zakaat in areas where MQM workers refused to go. Zaman said that they were kept away from education and many of his peers who had joined the movement with him are no more there and were killed aimlessly.

Answering a question on APMSO workers' involvement in the murder of MQM leader Imran Farooq, Kamal refused to comment. He said that it was a high-profile case being investigated by authorities.

101 additions to MQM

On the other hand, a former PML-Q MPA Afshan Imran and 100 of her workers joined the MQM on Monday. "More people will keep coming. We are also talking to people as those who were misusing and wrongly implementing Altaf's policies have left," said MQM's mayor-nominee Wasim Akhtar during a press conference. "When they [dissidents] left, hundreds are now joining."

Akhtar, without naming Kamal and the other dissidents, called their departure a blessing in disguise. The people of the country, especially Karachi, rejected all the allegations against Altaf and the MQM by voting for the party, and their victory in the by-elections proves that, he said.

The new recruit, Imran, asked why the dissidents did not remember RAW agents and target killers when they were enjoying their seats and positions.

PSP meets PTI

Meanwhile, a delegation of Pak Sarzameen Party led by Raza Haroon met Pakistan Tehreek-e-Insaf Karachi leaders on Monday evening to invite them for their April 24 rally. However, PTI's Imran Ismail excused and said that they will be unable to attend as it is their party's foundation day is on the same day.

The leaders met at Ismail's house in DHA Phase VIII, where they also spoke to the media. The leaders also discussed the current situation of the country and the revelations made by the Panama Papers.

Published in The Express Tribune, April 12th, 2016.
COMMENTS
Comments are moderated and generally will be posted if they are on-topic and not abusive.
For more information, please see our Comments FAQ