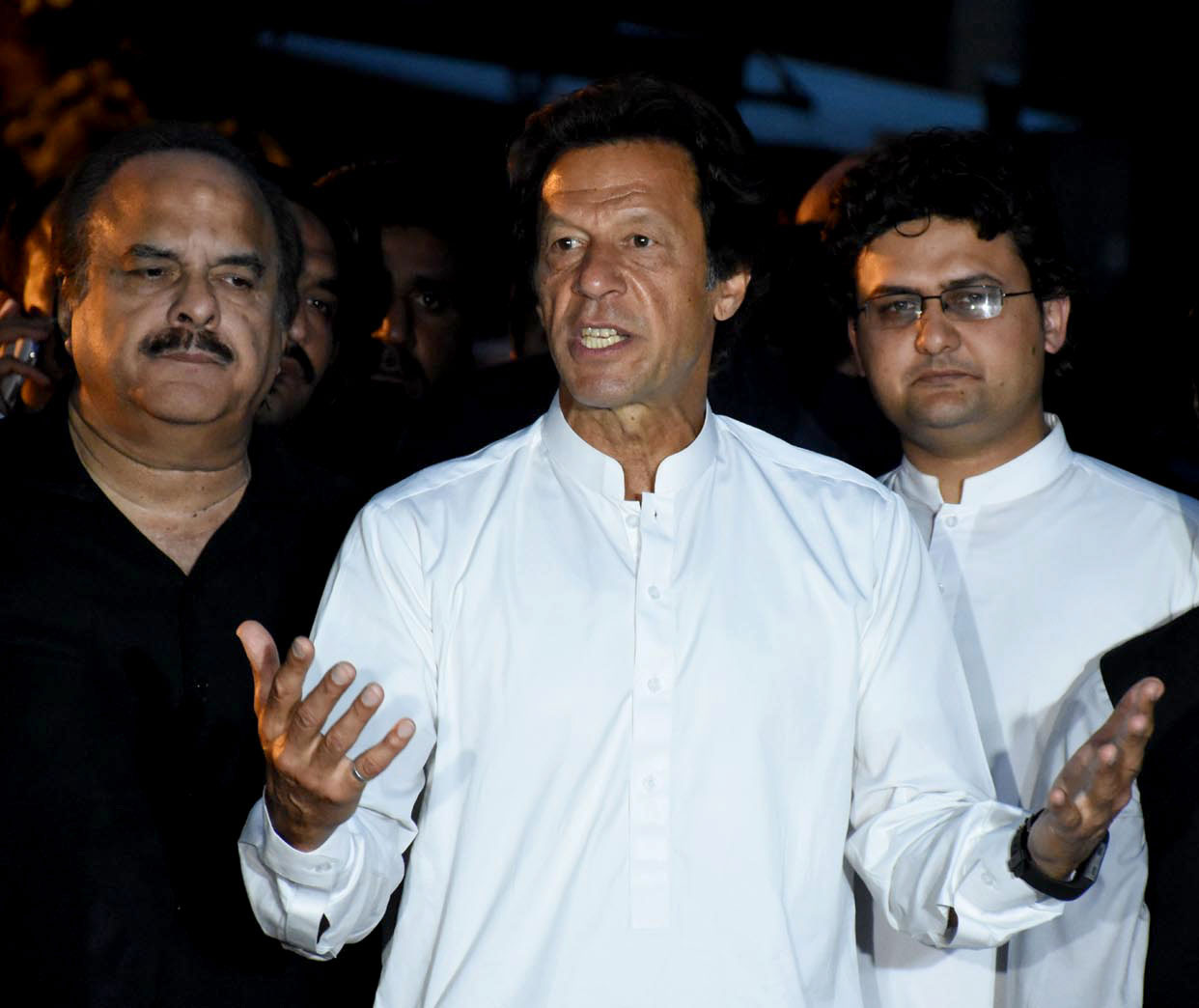 ---
Pakistan Tehreek-e-Insaf chairman Imran Khan said on Monday that he had postponed intra-party elections to fully concentrate on a protest march towards Raiwind following Panama Papers revelations of the Sharif family's offshore wealth.

"We have postponed our intra-party elections only to concentrate fully on staging the protest in Raiwind," he said while talking to the media in Islamabad.

On April 3, a massive leak of 11.5 million tax documents exposed the secret offshore dealings of world leaders and celebrities, also naming three of PM Nawaz's children for owning London real estate through offshore companies.

'Will march towards Raiwind if Panama Papers revelations not probed independently'

At the same time Imran said Pakistan Tehreek-e-Insaf workers will gather at F-9 Park in Islamabad on April 24 at all costs to celebrate the party's 20th founding anniversary.

"The protest will be launched with full force and will be a culmination of our movement against corruption," he added.

The statement came hours after Federal Interior Minister Chaudhry Nisar Ali Khan's refusal to allow any protest rally at D-Chowk or in F-9 Park "to keep the integrity of the federal capital intact".

The PTI leader further said they will consult and take on-board other political parties and stakeholders to gain momentum for the protest. "We do not want any confrontation or chaos in the federal capital and are even ready for a dialogue with the interior minister."

On Sunday, Imran had announced to stage protests in Raiwind if the government failed to conduct an independent probe into Panama Papers regarding the Sharif family's offshore wealth.

He had also said the government has time until April 24 to meet the demand, otherwise the party will launch a protest.

Earlier today, the interior minister hinted at designating zones for protests in Islamabad, saying anyone violating these will be restrained accordingly.

Fissure within PTI: Qureshi lashes out against Tareen, Chaudhry Sarwar

He also advocated a thorough and across the board inquiry of Panama Papers revelations involving all political parties of the country.

Rifts within the party

Meanwhile, noted PTI leader Jahangir Tarin announced to disassociate from the process of intra-party elections.

According to the leader, he neither wanted any rift nor demanded any position in the party and would simply continue to serve it.

On Sunday, PTI's Vice Chairman Shah Mehmood Qureshi representing the Ideological group accused Jehangir Tareen's Unity group of destroying the party.
COMMENTS (8)
Comments are moderated and generally will be posted if they are on-topic and not abusive.
For more information, please see our Comments FAQ