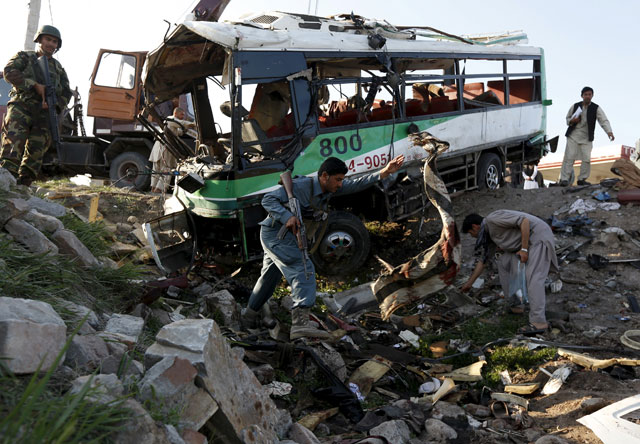 ---
JALALABAD: At least 12 people were killed and dozens wounded Monday when a suicide bomber attacked a bus carrying Afghan army recruits near the eastern city of Jalalabad, officials said.

"In the attack, 12 army recruits were killed," said Ataullah Khogyani, spokesman for Nangarhar province.

Ministry of Defence spokesperson Dawlat Waziri confirmed the incident and death toll, adding the attacker struck the bus while riding a motorised tricycle.

Afghan blasts kill 25, jeopardising peace talks

"The recruits were being transferred from Jalalabad to Kabul," Waziri said, putting the number of injured at 26.

Ehsansullah Shinwari, head of a regional hospital in Nangarhar province, said 38 people were hurt in the bombing.

The attack came days after US Secretary of State John Kerry paid an unannounced visit to Kabul to underscore his support for Afghanistan's beleaguered unity government and call on Taliban insurgents to resume direct peace talks.




There was no immediate claim of responsibility. But the Taliban, who have been waging a revolt against the government since being toppled from power in 2001, frequently target the military.

The Islamic State group has also gained a foothold in Nangarhar province in recent years.

Suicide bomber kills at least 11 in Afghanistan

Brigadier General Wilson Shoffner, a spokesperson for the US-led military operations in Afghanistan, said in March the group was mainly contained in one district of the province.

Many of them are former Taliban fighters who "have changed allegiance to Daesh," Shoffner said, referring to the group by its Arabic acronym.