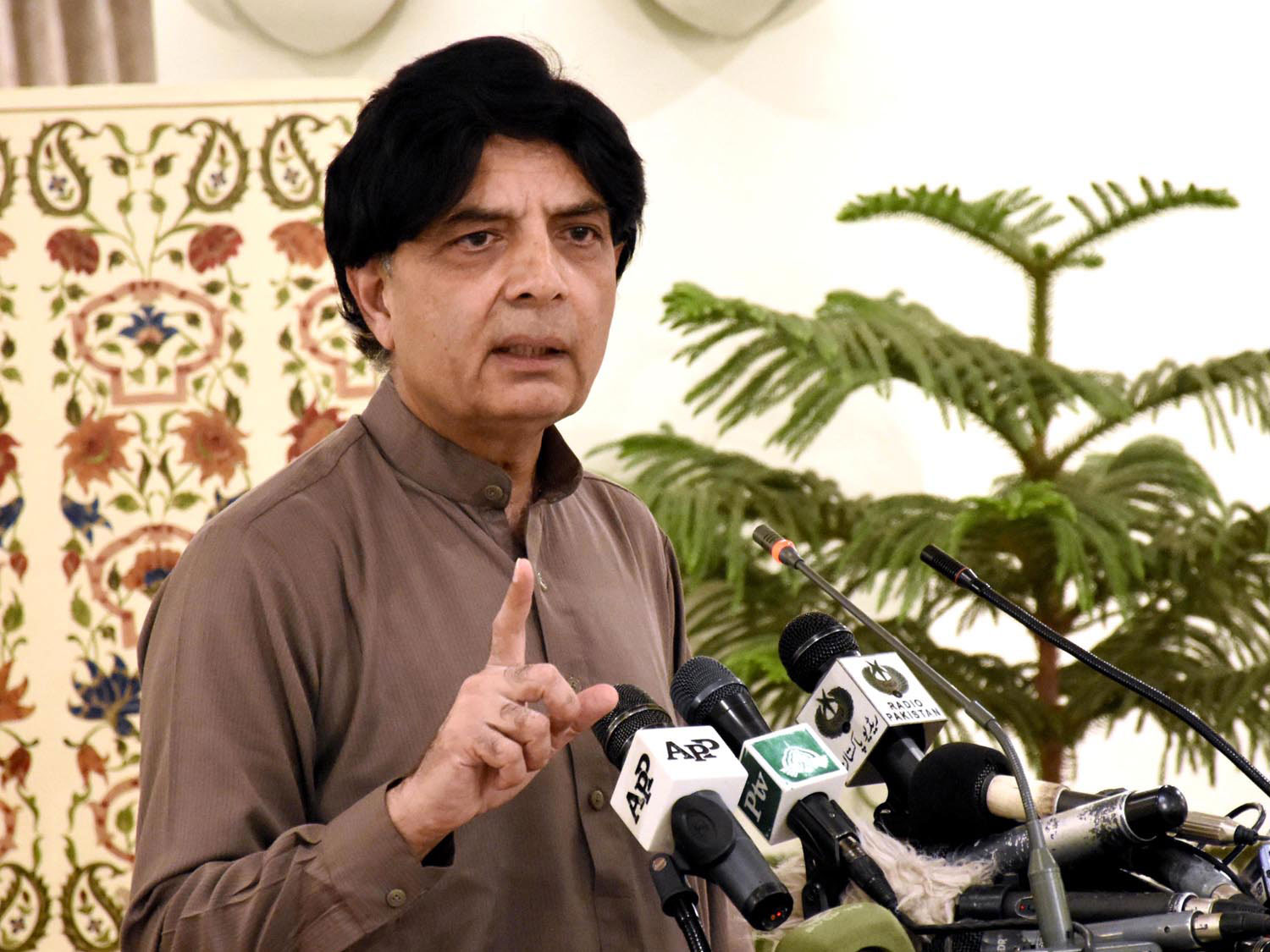 ---
The country's top security czar said on Monday that the authorities will not allow any protest to be staged at D-Chowk or F-9 Park to protect the integrity of the federal capital.

"We cannot let any protest take place at D-Chowk or F-9 Park of Islamabad," Federal Interior Minister Chaudhry Nisar Ali Khan said while addressing the media.

The statement came a day after Pakistan Tehreek-e-Insaf chairman Imran Khan announced to stage protests in Raiwind if the government failed to conduct an independent probe into the Panama Papers revelations regarding the Sharif family's offshore wealth.

The PTI chairman had also said the government has time until April 24 to meet the demand.

Talking about the popular areas for protests in the federal capital, Nisar said, "If the protest is to be staged in Islamabad, we will need an assurance that it will not proceed past the designated area," adding,
"This is not a matter of freedom of expression but about the integrity and basic human rights of the citizens of Islamabad."

Will march towards Raiwind if Panama Papers revelations not probed independently'

We are bringing about a proposal to designate areas where protests can take place, and it will be presented before the federal cabinet and political parties, the interior minister said.

He added that the protest will not be staged free from all restrictions. "Legal actions will be taken to maintain the writ of the state."

If any casualty takes place, the interior minster said, because of an administrative police action to bar the protesters, those organising the protests will be held responsible.

Govt rejects Imran Khan's demand to address nation on state television

"Let peace and sanity prevail," he said while raising a question: why cannot a dialogue take place to end the politics of protests. "Protests staged earlier resulted in causing a loss of Rs1 billion to the exchequer and sent a bad message of the federal capital to the world."

Panama Papers probe

Chaudhry Nisar made it clear that he was not against a probe and that a thorough probe into Panama Papers revelations should take place. Political leaders including leaders of opposition in parliament should present themselves for investigation and accountability.

"If Imran Khan wants investigation by Federal Investigation Agency, he can name any officer and we will nominate him for the purpose," he added.

He went on to say, "We have to take this case to its logical conclusion for the awareness of masses and refrain from a politics of blame game."

Meanwhile, responding to a media talk, PTI leader Imran Ismael said they will organise protest in Islamabad at all costs and will not settle for any less than constitution of a CJP-led commission to investigate the recent revelations of offshore assets.