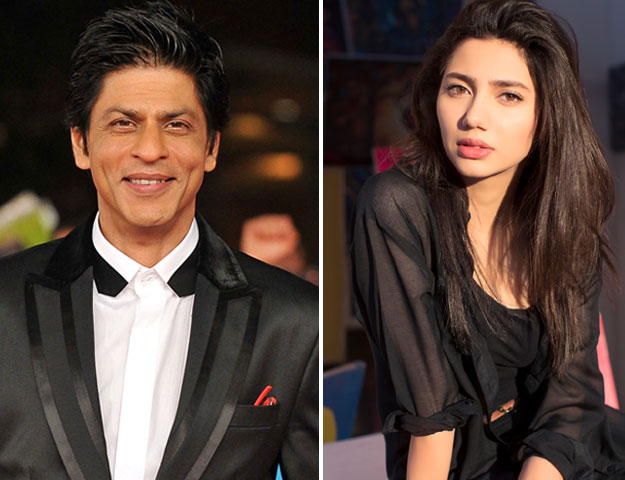 ---
We've all been waiting to hear what Shah Rukh Khan has to say about his experience of acting alongside Pakistani superstar Mahira Khan. It appears that Mahira has left a lasting impression on King Khan as the Bollywood megastar has admitted he's missing his Raees co-star following the completion of their shoot.

"First I'll talk professionally. Mahira is a really fine actor. And she's very different. She's very quiet. A Hindi film is a world in itself and she's fortunate to have come in a film like Raees, which is still a little more realistic than the likes of Dilwale or Happy New Year," SRK told Instep.




Ridiculous or adorable? Shah Rukh dances like a total weirdo in the 'Fan Anthem'

That wasn't it, however. It seems Shah Rukh just can't stop praising Mahira. "What's nice about her is that she's so unassuming. She's such a big star but she's very unassuming on the set and she's ready to adapt to the situation, which is very interesting. The bigger the star you are, the more nervous you get; I still get very nervous. I hide my nervousness with my flamboyance. But Mahira's really, really nice as an actor."

Shah Rukh Khan gets college degree after 28 years

He also revealed that Mahira brought him a special gift from Pakistan. "Personally, she's really sweet. She got chappals for me. I keep troubling her though. I keep teasing her that 'you're from that country' and you know, 'don't mess with us here' and she's really sweet and supporting. I miss her."

https://www.instagram.com/p/BB0NSigx8QE/

Raees, which was earlier supposed to hit cinemas on Eid, will now be released a few weeks later. In the meanwhile, Shah Rukh and Mahira keep teasing us with their witty Twitter conversations.

For instance, recently when SRK got emotional after completing Raees shoot, he sent out this Tweet:

Finished Raees. Maybe a bit of patchwork left if any. Will miss the laughs…the intensity & the kohl. Thx to the sweetest unit ever. Lov u

— Shah Rukh Khan (@iamsrk) April 5, 2016


Here's what Mahira said in response:

@iamsrk I'm the patch work ;) rest and relax if you can G! Love.

— Mahira Khan (@TheMahiraKhan) April 6, 2016


Earlier, Shah Rukh got a little upset when Mahira posted a photo in a 'Raees t-shirt':

Am I the only one who doesn't have this t shirt?! Or is there a rule u can either mouth the lines or wear them? https://t.co/IjbfnqkswL

— Shah Rukh Khan (@iamsrk) March 10, 2016


Mahira didn't let go of the opportunity to tease the megastar:

@iamsrk @MandviSharma hahahaha! You might be the only one and yes it's totally because that's the rule ;)

— Mahira Khan (@TheMahiraKhan) March 10, 2016


Our only wish now is that Raees isn't delayed any further!
COMMENTS (18)
Comments are moderated and generally will be posted if they are on-topic and not abusive.
For more information, please see our Comments FAQ