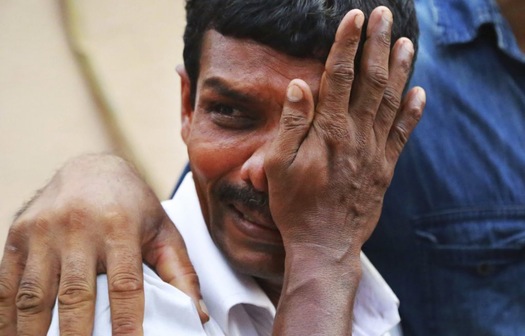 ---
KOLLAM: After scouring six hospitals and three morgues, N.P. Anoop is no closer to finding his father who was caught in a massive blast and fire at an Indian temple that claimed more than 100 lives.

Like thousands of others, his father had gone on Saturday night to the Hindu temple in southern Kerala state, renowned for its beaches and tranquil backwaters, to see the annual fireworks display.

But in the chaotic hours after the explosion that ripped through the Puttingal Devi complex, the increasingly desperate 32-year-old could find no trace of his father, Vishwanathan, and feared the worst.

Fireworks gone awry: Temple blaze kills over 100 devotees in India

"I don't know if he is alive or dead. All I want is to see him, we are ready for the worst but this search is painful," he told AFP after questioning ICU staff at a medical college hospital in the state capital Thiruvananthapuram.

"My father had gone to the festival with his friend. We were able to find the body of his friend but have yet to get any information on my father," the weary-looking Anoop said, before heading off to yet another hospital.

At hospitals, morgues and police stations, families are involved in a heartwrenching search for loved ones feared swept up in the blast that tore apart concrete buildings.

But the task is being made more difficult by the fact that some of the more than 100 people killed are unrecognisable.

India temple fire kills over 100 people watching fireworks

Local residents reported finding body parts strewn at the complex from the force of the explosion, while others were charred in the fire, in a tragedy that Prime Minister Narendra Modi described as "shocking beyond words".

Some 15 families flocked to Paravur police station, just 100 metres from the temple, to fill out missing person reports and implore officers to help.

"There are 20 unclaimed bodies at the morgues and we suspect some of them (the missing) might be there. But only a DNA test will establish their identities as the bodies are beyond recognition," officer in charge N. Vijayan told AFP.

At the hospital in Thiruvananthapuram, families move through the corridors, some sobbing, others peeking through glass windows, as overworked doctors and nurses race around them.

Others who found relatives now face an agonising wait as they undergo treatment for serious burn and other injuries.

"We can only pray to God. There is nothing we can do, doctors are doing their best to save him," Ramesh, who only has one name, said of his injured 22-year-old son.

Jamrud mosque blast: Remembering the 107 fallen

Emergency room doctor Rajesh Kumar said the hospital was initially overwhelmed after the disaster, with victims arriving with head wounds and mangled limbs.

At the temple in Kollam district, witnesses described mass panic after the explosion, thought to have been sparked by a firework that landed on a stockpile of others during the show.

Labourer K. Manayan said thousands of "jubilant people" had been enjoying the lengthy display in the early hours of Sunday morning.

"Everything changed in a moment after a huge thud. There was silence and people were crying for help. It was so powerful that I fell to the ground and in no time people started running over me," he told AFP.
"Some one pulled me towards the side and later took me to hospital."
COMMENTS (1)
Comments are moderated and generally will be posted if they are on-topic and not abusive.
For more information, please see our Comments FAQ