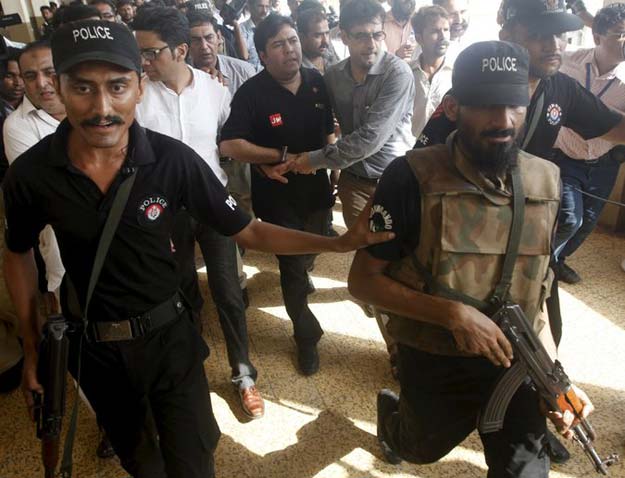 ---
In the year since Pakistani investigators raided Axact, a Karachi-based software company accused of raking in hundreds of millions of dollars with a vast Internet degree scam, Pakistani and American investigators have been busy dismantling its operations.

Fourteen Axact employees, including the chief executive, await trial on charges of fraud, extortion and money laundering. Bank accounts in Pakistan and the United States have been frozen. Investigators have uncovered a tangled web of corporate entities — dozens of shell companies and associates, from Caribbean tax havens to others in Delaware, Dubai and Singapore — used to funnel illicit earnings back to Pakistan.

New details suggest that Axact's fraud empire, already considered one of the biggest Internet scams on record, is bigger than initially imagined. Over the past decade, Axact took money from at least 215,000 people in 197 countries — one-third of them from the United States. Sales agents wielded threats and false promises and impersonated government officials, earning the company at least $89 million in its final year of operation.

New Myanmar finance chief falls victim to Pakistan's fake degree scam

Those findings stem from financial and customer records, company registrations, sworn testimony, communications between Pakistani and American officials, and hundreds of hours of taped phone conversations filed in court. The records have been made available to The New York Times in the months since a Times article detailing the company's scheme prompted police raids and the collapse not just of Axact, but also of the company's new national news channel, Bol.

The case against Axact, which at first seemed a rare instance in which tycoons with powerful connections were being held to criminal account, has increasingly appeared in recent months to be in jeopardy.

The leading prosecutor quit with little explanation, hinting that he had come under political pressure to soft-pedal the case. A trial date for the company's executives has not been set, and several judges have dropped out of the case. Some media analysts, noting that Axact's jailed chief executive, Shoaib Ahmed Shaikh, has publicly boasted of his work for the Pakistani military, speculate that his powerful connections may yet work in his favor.

"There's been a huge amount of speculation and analysis and deep-throated conspiracy theories," said Hasan Zaidi, a filmmaker and media analyst based in Karachi.

"Initially, there was a lot of surprise that Axact's operations were being tackled so quickly, particularly given the view that it was being backed by the boys," he added, using a common euphemism for the military's Inter-Services Intelligence spy agency. "But now the interest has died down, and I don't think it will ever be solved — even through a court case."




Axact had been in business for nearly 10 years at the time of the arrests in May, and the company and its founder appeared ever more eager to step into the public spotlight, seemingly unconcerned about the risk. Most prominently, Axact was preparing to introduce Bol, a television network with 2,200 employees that had started test transmissions in the days before the police raids.

Comparing himself to Microsoft's Bill Gates, Mr. Shaikh had touted Axact as Pakistan's leading software exporter. He laid out an ambitious plan to provide education for millions of Pakistani children, and he wreathed himself in patriotism: In the corner of his office, near a passage leading to a bedroom and a private swimming pool, the eagle-crested Axact company flag stood alongside a furled Pakistani standard.

Why I left Axact: The inside picture

Once the police investigation began, Mr. Shaikh instructed subordinates to burn company documents at a vacant lot and to destroy computer drives, some of which were later cast into the sea, another executive testified to the police.

But Mr. Shaikh could not prevent the seizure of a vast trove of data, some recovered from computer disks as they were being deleted, that led investigators to conclude that Axact's main business was providing fake degrees.

The police found more than one million blank educational certificates and evidence of 300 fictitious educational websites, many with American-sounding names like Columbiana and Brooklyn Park, that sold fake degrees to hundreds of thousands of people around the world. Some knowingly bought effortless degrees to pad résumés or to help in immigration, and a handful have been publicly embarrassed.

Last month, Myanmar's new finance and planning minister, U Kyaw Win, admitted that his doctorate came from Axact's Brooklyn Park University. "Now I am ashamed to call myself a Ph.D.," he said.

Many other customers, investigators quickly realized, had fallen victim to an elaborate and aggressive fraud, going to Axact-run websites for a legitimate online education only to be intimidated into making ever larger payments.

Hundreds of hours of taped phone conversations, extracted from Axact servers and cited by prosecutors, showed sales agents impersonating American lawyers or State Department officials in an effort to collect more money from customers, mostly in the Middle East.




In one recording from 2014, Riaz Ahmed Shaikh, a Pakistani living in Abu Dhabi, pleaded for respite from "Jacob" — a man who he believed was calling from the legal office of a university in California but was in fact an Axact sales agent in Karachi, according to police records.

"Please, please, Mr. Jacob," said Mr. Shaikh, who said he had already paid $150,000 to Axact. "I have sold all of my assets to pay this last amount. I am not eating well. I am not sleeping well."

"Look, you're not paying that much," the sales agent cajoled, before holding out a threat of possible police action. "Just another $10,000."

Axact executives took extraordinary measures to disguise their links to fraud. In a lawsuit in the United States, in which former customers of the online Belford High School were seeking damages, Axact officials persuaded an attendant in the company's cafeteria to pose as the founder of the school, a police report said.

The worker, Salem Kureshi, conducted a webcam video deposition in 2011 for the American court. In it, he merely moved his lips while, off camera, an Axact official voiced a set of evasive answers for the American lawyers, Mr. Kureshi told the police.

Axact earned over $205 million through selling fake degrees: FIA report

After the police raided Axact last year, Mr. Kureshi added, executives paid him $250 to go into hiding in his hometown, 700 miles from Karachi.

In Pakistan, the plight of Axact's victims has been largely overshadowed by the media furor surrounding the Bol network, which had hired some of the country's most prominent journalists before it closed. With their salaries suddenly cut off, many employees took to the streets to protest, saying Axact was the victim of a conspiracy by rival news organizations.

Shoaib Ahmed Shaikh insists that he earned his wealth through legitimate software exports. He has hired Shaukat Hayat, a lawyer whose client list includes Pervez Musharraf, the former Pakistan president, to defend him.

In a telephone interview, Mr. Hayat said the case against Mr. Shaikh and his fellow executives had been cooked up by the news media. "They have not committed any illegal action," he said.

Mr. Shaikh also faces scrutiny from American investigators. In a letter to the Pakistani authorities in February, United States officials said the F.B.I. had identified Axact as a "diploma mill" that operated a "worldwide web of shell companies and associates." Three of the main shell companies, registered in Delaware, were found to have been owned by Mr. Shaikh or his associates, the letter said.

Other company documents point to shell holdings in the British Virgin Islands, Cyprus, Dubai and Panama. In several instances, Mr. Shaikh appears to have used a pseudonym, Ryan Jones, to sign company documents. He became a citizen of St. Kitts and Nevis, a small Caribbean island that sells passports to rich investors.

In the Belford case, lawyers have obtained a court order freezing three American bank accounts containing $675,000. In a sworn statement, Mr. Shaikh admitted ownership of some of those accounts.

His sister, Uzma Shaheen, who lives in Chicago, has been called to testify. Documents filed in court show that Ms. Shaheen transferred more than $37 million from American bank accounts to Axact in Pakistan in recent years.

Still, much of Axact's global network remains undisrupted. It controls 32 other bank accounts — in the United States, Ireland, Dubai, St. Vincent and the Grenadines, Belize, and Singapore — that are thought to contain millions of dollars, according to prosecution documents.

And in Pakistan, the case has run into quicksand. Two judges have recused themselves without explanation; so has Zahid Jamil, an ambitious prosecutor who built much of the case against Axact but quit abruptly in February, citing unspecified circumstances "that make it impossible for me to proceed further."

Contacted by phone, Mr Jamil declined to comment.

Nighat Dad of the Digital Rights Foundation, an Internet advocacy group in Pakistan, said the Axact case showed that good laws also needed political will if they were to succeed.

"If the evidence is so clear, and there is so much of it, then why is the case against Axact taking so long?" she asked. "Something must be happening behind closed doors."
COMMENTS (13)
Comments are moderated and generally will be posted if they are on-topic and not abusive.
For more information, please see our Comments FAQ