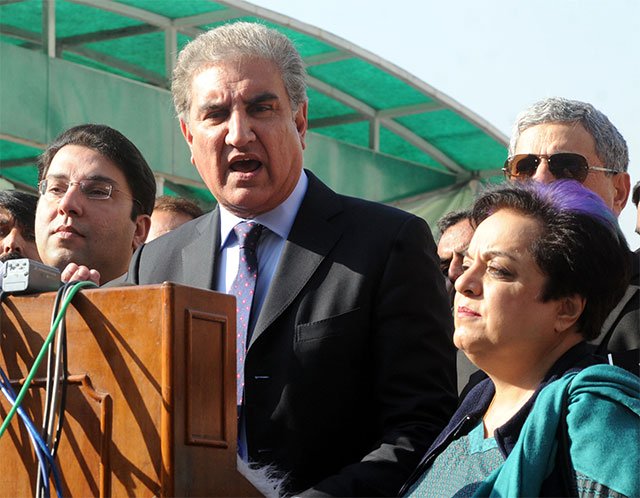 ---
LAHORE:



Fissures have appeared within the PTI ahead of its much awaited second intra-party elections as the PTI's Vice Chairman Shah Mehmood Qureshi on Sunday lashed out against other leaders, Jehangir Tareen and the PTI Punjab organiser Chaudhry Mohammad Sarwar.




Two major groups have emerged as strong contenders during the intra-party election, including the Qureshi backed Ideological group and the Tareen backed Unity group. While Qureshi has fielded Shafqat Mahmood for Punjab's presidential race, Tareen has fielded Chaudhry Sarwar.

Intra-party polls: Ejaz Chaudhry pledges support for Sarwar

Addressing a convention of the party's 'Ideological group', Qureshi said he would quit politics if he had to seek party's ticket for the next general elections from party leaders like Tareen and Sarwar.

The convention was attended by Hamid Khan, Saifullah Niazi, Dr Yasmeen Rashid, Rai Azizullah and the group's provincial and Lahore district presidential candidates, Shafqat Mahmood and Waleed Iqbal.

Taking a shot at Chaudhry Sarwar, Qureshi critised him for his former association with the ruling PML-N and said Sarwar was Punjab's governor, when the party workers were being 'victimised by the police' during its 2014 sit-in.




"And while I led the PTI's delegation [for talks with government during the sit-in], the PMLN's delegation was led by Sarwar," Qureshi said.

He said Tareen backed Unity group was destroying the party, adding that he will opt to quit politics instead of seeking party tickets from the likes of Tareen and Sarwar.

'Whose side are you on?' PTI's Tareen gets trolled for welcoming Mustafa Kamal

Qureshi, however, said merit would be held supreme in terms of awarding party tickets. "No one can influence Imran Khan's decisions" he said.

Qureshi said he quit the portfolio of the foreign minister during the last PPP government because of his ideology. The vice president dismissed allegations against him of creating groups within the party and said there was a difference between creating divisions and sticking to ideology.

Lashing out against the 'money mafia' within the party, he said all decisions in the party were reached after mutual consultations and by holding the party's and the country's interests supreme.

"Those who instead of ideology use money to enforce decisions within the party will be defeated by workers in the upcoming intra party elections," he said. Hamid Khan said no one would be allowed to hijack the party while Saifullah Niazi said the party elections would be held on schedule.

Published in The Express Tribune, April 11th,  2016.
COMMENTS (9)
Comments are moderated and generally will be posted if they are on-topic and not abusive.
For more information, please see our Comments FAQ