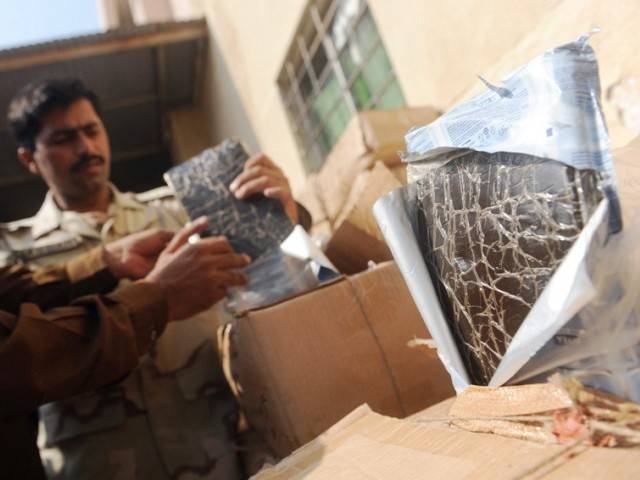 ---
RAWALPINDI: The Anti Narcotics Force (ANF) Rawalpindi recovered 32.7 kilogrames of drugs in seven separate incidents on Sunday.

According to details, ANF Rawalpindi while carrying out an operation in Attock City, arrested two local drug peddlers and recovered 1.1kg heroin from their possession.

In another operation ANF Rawalpindi arrested a local drug peddler from Quaid-e-Azam University Chowk and recovered 1.5kg of hashish from his possession. As per initial reports, the accused was involved in supplying drugs to students of the university.

In a third operation, ANF Rawalpindi while acting on tip-off, held arrested two local drug peddlers near Chatti Graveyard Chowk, Pirwadhai and recovered 1.2kg of hashish from their possession.

The police conducted an operation near Dhoke Hafizabad Bus Stop, Airport Road and apprehended three persons and seized 1.7kg of heroin from their possession. As per preliminary information, the arrested persons were involved in supply of drugs at local level.

In a fifth operation, ANF stopped a Toyota Corolla Car near Jehlum Toll Plaza and seized 20kgs of hashish during search of the vehicle. Hashish was concealed in secret cavities of the car. Two persons were also held during the operation.

ANF while carrying out another operation near Tarki Toll Plaza, Main GT Road, Jehlum, seized a Toyota Corolla Car, which resulted in seizure of 7.2kgs of hashish concealed in it. Two persons on board were also taken into custody. In a seventh operation, ANF recovered 1kg hashish while arresting two persons at Burhan, Attock.

Published in The Express Tribune, April 11th,  2016.
COMMENTS
Comments are moderated and generally will be posted if they are on-topic and not abusive.
For more information, please see our Comments FAQ