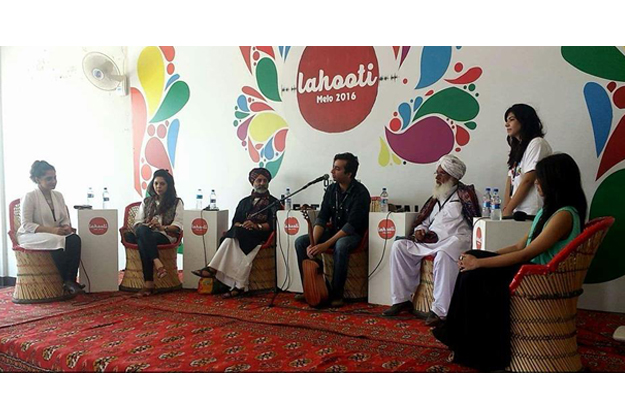 ---
HYDERABAD:



If you end up waiting two hours for a session on poetic resistance, it might be a good idea to kill time resisting the urge to walk out. But when the session does start, it puts aside all qualms and you cannot help but get carried away by the promising forms of resistance offered by the panellists and excited hoots coming from the audience.




Day two of Lahooti Melo 2016 at Hyderabad Club on Sunday hosted a session on 'Autocratic Era and Poetic Resistance', offering both an insight into the movements of the past and a hope for resistance in recent times.

Moderator Wusatullah Khan kicked off the session with an overview of how various poets, writers and performers resisted autocratic regimes throughout sub-continental history and as recently as the dictatorship of General (retd) Ziaul Haq.

"Kahan qatil badaltay hain, faqat chehray badaltay hain [Where do murderers change, merely faces change]," he said, reciting Habib Jalib's poetry written during Zia's time. Khan took his time recalling the various ways in which different speakers or their ancestors resisted the state or autocratic regimes.

Khan introduced Arieb Azhar as "off-track and misfit". "What is the level of ghuttan [claustrophobia] in society today?" he asked Azhar, who smiled in response. "The ghuttan during Zia's time was from the state. But the leftist movement at that time and the unity people showed in the face of a dictator, lacks today," Azhar admitted. "Perhaps we found everything that was wrong in society in one man," he reasoned. "It was our belief that if we remove Zia, everything in Pakistan will get better."

Azhar admitted that the seeds that were sown long before Zia were harvested by him. "But today's ghuttan is in our everyday lives," he said. "The ghuttan is from within. It is more subtle and that is why you don't see it galvanising people. First, the enemy was in front of us, now he is living within us."

Former culture minister Sassui Palijo said that we cannot forget the times of dictators because of the lessons learned from them. "Lahooti helps because we sit and identify what the problems are and then we decide how to fix them," she said.

Khan put forth another food for thought. "What if there are poets and writers in Balochistan, south Punjab or Khyber-Pakhtunkhwa who are resisting against the regime and we just don't know about them?"

Sindhi poet Aakash Ansari felt regional poetry, especially in Sindhi, is based on resistance. He gave the example of Sachal Sarmast and his poetry against the Mughal emperor Aurangzeb. Ansari too took a jab at Zia and called him the "worst dictator in the world at any given time".

The last on the panel was artist Khuda Bux Abro, who was asked how he resisted using colours? Abro spoke about making art for Sindhi magazines, long before he went to the National College of Arts in Lahore and actively participated in anti-Zia rallies. Abro felt that resistance is still taking place — if not through newspapers, then through social media.

Published in The Express Tribune, April 11th,  2016.