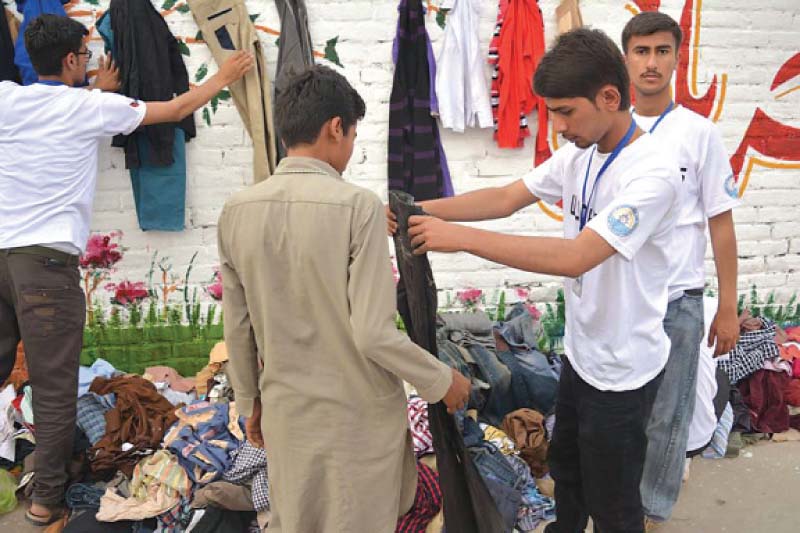 ---
TAXILA:



The trendsetting 'wall of kindness', or Deewar-e-Mehrbani, which first emerged in the city of Mashhahd in Iran and spread to various cities was inaugurated in Taxila on Sunday.




A group of four students from the University of Engineering and Technology (UET), Taxila, set up the
wall near the varsity's campus on the Taxila-Khanpur Road.

The wall bears the slogan, "Donate everything for helpless people".

The initiative encourages people to donate clothes, shoes, food items and other goods for the needy to take without charge.

Diwar-e-Mehrbani: Hanging your share of kindness

The organising students – Hussain Sadiq, Tanzeelur Rehman, Salman Saleem, and Osama Hafeez – were inspired by others, especially Asad Lodhi, who was the first to start the wall of kindness in Peshawar.




Tamoor Masood Akbar, from the Pakistan Tehreek-e-Insaf and Member Punjab Assembly from Wah Cantt, inaugurated the wall on Sunday. He appreciated the efforts made by the organising students.

Hussain Sadiq said they chose this location for the wall because a large number of educational institutes were situated close by. He said the location was also frequented by many commuters on a daily basis. He said the response had been very positive. He added that uniforms and books had also been distributed among orphaned students, collected from fellow university students.

"Many people, such as nomads, daily labourers, and sweepers, came to see the wall. They had to be explained what the wall was, and that they did not need to pay any money for anything," he said.

Salman Saleem said the wall of kindness was different from other welfare projects because it involved students and individuals. Osama Hafeez said the wall was one of the best ways to serve humanity without any discrimination.

"This is our first day, but I am overwhelmed by the response. People in cars who saw the wall came back with stuff to donate from their homes," he said.

The wall of kindness: Pavement goes from sex corner to charity spot

"I have also noticed
that people from [low income households] are not taking the clothes; they said there are more deserving people who need it," Hafeez added.

He also said that they had accumulated so many things that they had to keep
some aside for the time being.

Malik Tahir Suleman, a passerby, appreciated the initiative. "I can see the youth getting involved in very positive activities. We should help them and spread the word. I will definitely donate clothes to the wall of kindness."

The initiative travelled from neighbouring Iran to Peshawar, and has thus far been set up in Karachi, Sahiwal, Rawalpindi, Islamabad, Lahore and Quetta.

Published in The Express Tribune, April 11th,  2016.