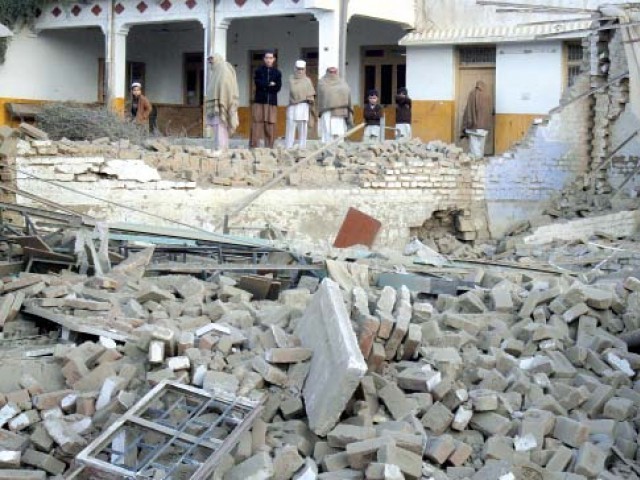 ---
HANGU: Tribal representatives and local elders demanded rebuilding infrastructure of educational institutions destroyed in Orakzai Agency due to terrorism over the last seven years.

According to a report issued by education authorities in Orakzai Agency on Sunday, 160 educational institutions were destroyed due to militancy in the last seven years. These included 37 boys primary schools, four boys middle schools, two boys high schools, 15 girls primary schools, five girls middle schools and two girls high schools.

At least 10 girls primary schools, two girls middle schools and 21 boys primary schools were partially damaged.




The document also stated infrastructure of seven educational institutions was destroyed due to recent flooding and rainfall.

However, with assistance from the Pakistan Army, FATA Secretariat Special Project (FSSP) and funds from Economic Development Programme and private institutes and infrastructure of 37 schools was rebuilt.

Negligence or indifference?

The tribal representatives and local elders expressed extreme dissatisfaction over the neglect shown by the provincial government, education department and political administration regarding the issue.

Talking to the media this week, they claimed checks and balances in the education department of Federally Administered Tribal Areas (Fata) had completely failed as no education assessments were held in Orakzai Agency. Elders stated officials of the education department did not even hire an education officer for the last nine months. "Even though there were three assistant directors in FATA Secretariat who belonged to Orakzai Agency, none of them thought of appointing an education officer in their own agency and the post has been vacant for the last nine months," an elder said.

Tribal representatives also said teachers were not serious about the education of their students as they remained absent for weeks, but still raked in salaries. "Some teachers and class-IV employees have gone abroad, but were still receiving salaries in their accounts," one of them told the media.

Local elders said the ignorant behaviour of the education department towards Fata shows Independent Monitoring Unit did not last for long. The unit was launched by FATA Education Director Professor Hamidullah in the tribal belt in 2014 to observe the attendance and performance of teachers.

However, in the beginning of April, FATA Development Programme decided to replicate Punjab's Smart Schools Monitoring System in all government schools of Fata.

Published in The Express Tribune, April 11th,  2016.

 
COMMENTS
Comments are moderated and generally will be posted if they are on-topic and not abusive.
For more information, please see our Comments FAQ