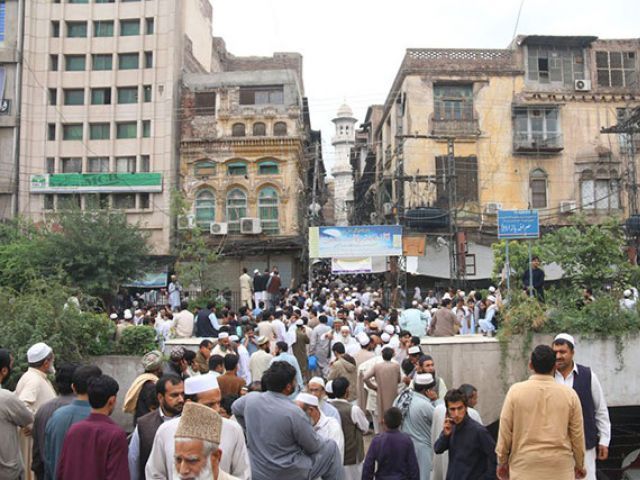 ---
PESHAWAR/ CHARSADDA: At least five people were killed and many others injured in Pakistan as earthquake with a magnitude of 6.6 struck South Asia on Sunday.

At least three died when tremors caused a landslide on the Karakar mountain range connecting Swat and Buner.

Two others passed away in Shabqadar Shahbaz Khan Korona of district Charsadda when a boundary wall collapsed.

The earthquake hit parts of Punjab and Khyber-Pakhtunkhwa near the Afghan border, shaking buildings in the Afghan and Pakistan capitals, witnesses and the US Geological Survey (USGS) said.


Prelim M6.6 earthquake Afghanistan-Tajikistan-Pakistan region Apr-10 10:28 UTC, updates https://t.co/aCJBA5Aqwv

— USGS Earthquakes (@USGS_Quakes) April 10, 2016


The USGS said the quake was centred near Chitral at a depth of 210 km.

Tremors were also felt in the Indian capital and in Kashmir, witnesses said, forcing residents to leave homes.

Hundreds feared dead as earthquake jolts Pakistan, Afghanistan

In Pakistan, shocks were felt in Murree, Rawalpindi, Gujranwala, Gilgit-Baltistan, Abbottabad, Mansehra and surrounding areas.

At least 27 people, including women and children, with minor injuries were brought to Lady Reading Hospital (LRH) in Peshawar following earthquake in the province.

LRH director for accident and emergency Dr Khalid told The Express Tribune all the injured had sustained minor wounds, adding 18 people were discharged following medical assistance at the facility.

Meanwhile, spokesperson Rescue 1122 Bilal Faizi said they did not receive any information on damages due to the earthquake.

Meanwhile, at least five people including two women and children were stuck under the rubble when a roof fell in Dogdarra area of Upper Dir.

"The roof was already made weak by the continuous rain, and collapsed during the earthquake," police officials from the area said.

Telephone networks have reportedly been disrupted in the affected areas and an emergency has been declared at all hospitals across K-P.

Express News said tremors were felt for more than 60 seconds.


#Earthquake Jolts in Lahore and other parts of the country. May everyone stay safe n sound. Be careful and keep Pak in prayers.

— Ahmad Shahzad 🇵🇰 (@iamAhmadshahzad) April 10, 2016
Just felt the tremors of a earthquake in mohali
Evacuated out the hotel, boys are a little "shaken"

— Dale Steyn (@DaleSteyn62) April 10, 2016
Earthquake History for April 10th
Southern Iran 1972
One of the world's deadliest earthquake magnitude 5.1.

— Reham Khan (@RehamKhan1) April 10, 2016
There were foreshocks before the earthquake, there were 4 increasing earthquakes in Malakand day before #Pakistan pic.twitter.com/xQlYxUq80g

— Iftikhar Firdous (@IftikharFirdous) April 10, 2016
Calamity risk: Four earthquakes felt across province
Wow that was a strong earthquake

— zainab abbas (@ZAbbasOfficial) April 10, 2016
My God what an #earthquake was that. #Peshawar

— Iftikhar Firdous (@IftikharFirdous) April 10, 2016


https://twitter.com/ammarawrites/status/719111089896693760


Brother called five minutes ago from Dassu where he is stranded about a major #earthquake. Felt jolts in Lahore immediately after the call.

— N. (@guldaar) April 10, 2016
Omg massive tremors in #lahore #earthquake

— Nighat Dad (@nighatdad) April 10, 2016
#AFG That was a strong jolt. #Earthquake

— BILAL SARWARY (@bsarwary) April 10, 2016
A powerful quake jolts Gilgit- Baltistan. Too early to tell about losses but if no losses, would be miracle

— ShabbirMir Shina (@ShabbirMir) April 10, 2016


In October last year, over 200 people were killed as a strong earthquake jolted Pakistan and Afghanistan.

PM directs relief, rescue work

Prime Minister Nawaz Sharif has directed all state institutions to begin rescue efforts for the ones affected by the earthquake and provide relief to them.

In a statement, the premier directed all federal and provincial civil, military and relief institutions to remain alert and employ their resources to help those in need and provide help wherever necessary.
COMMENTS (2)
Comments are moderated and generally will be posted if they are on-topic and not abusive.
For more information, please see our Comments FAQ