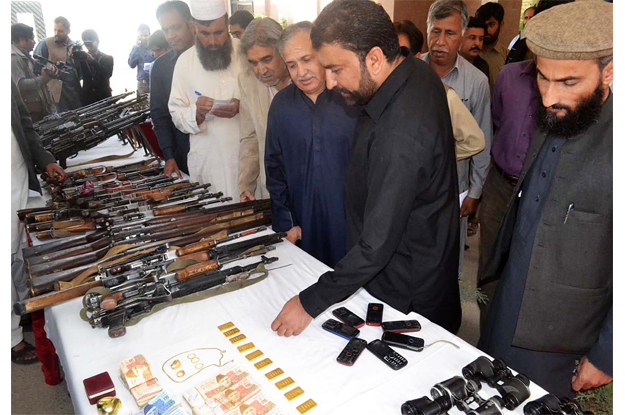 ---
QUETTA:



At least 34 separatist militants responsible for last year's massacre of 23 Pashtuns have been killed in a major intelligence-driven raid in a volatile district of Balochistan, top government officials said on Saturday. In May 2015, gunmen flagged down two Karachi-bound passenger buses in the unfrequented Gidrang area of Mastung, forced off 23 ethnic Pashtun passengers and killed them execution-style.




"Security forces conducted an intelligence-based operation (IBO) in the Johan area of Kalat district on Saturday. Thirty-four members of the United Baloch Army (UBA), a banned separatist group, were killed in the raid, including a most wanted commander, Abdul Nabi Bangulzai," Home Minister Mir Sarfraz Bugti told a news conference in Quetta.

Bugti described the operation as a 'big achievement'. "We have fulfilled a promise we made with our Pashtun brothers by killing those who attempted to sow ethnic discord in Balochistan," he added.  "The dead also include some other high-profile terrorists," he said but added that it was not immediately possible to verify the identities of all militants as the region was difficult to access due to its mountainous terrain. Still he confirmed that UBA commander Abdul Nabi Bangulzai was among them.




Provincial government spokesman Anwarul Haq Kakar, who also addressed the news conference, said separatist groups have splintered since the launch of an offensive in the province, and they were being squeezed. "The operation was mounted after security forces were tipped off about the presence of militants of a UBA splinter group in the Johan camp." The splinter group was involved in countless attacks on settlers (people from other provinces) and security forces, he added. "Bangulzai had been leading attacks from Johan and adjacent areas for the last 10 years."

The massive operation also yielded a huge cache of arms and ammunition including 26 kilogrammes of explosives, Rs2.9 million in cash, gold plates, improvised explosive devices, hand grenades, rocket launchers, mortars, cell phones, laptops and other material used for terrorist activities.

Pakistani officials have long claimed that spy agencies of neighbouring countries were fuelling violence in Balochistan in an attempt to sabotage the multibillion-dollar China-Pakistan Economic Corridor project. Last month, an official of India's Research and Analysis Wing (RAW), Kulbhushan Yadav, was arrested from Balochistan, while an operative of Afghanistan's National Directorate of Security was nailed earlier this week, also from Balochistan.

"The enemy is trying to spoil peace in Balochistan but our forces have intensified the offensive against the enemies of the state," Bugti said while referring to these arrests. "Security situation in the province has improved considerably in comparison with previous years – and it will be further improved," he added.


Published in The Express Tribune, April 10th, 2016.