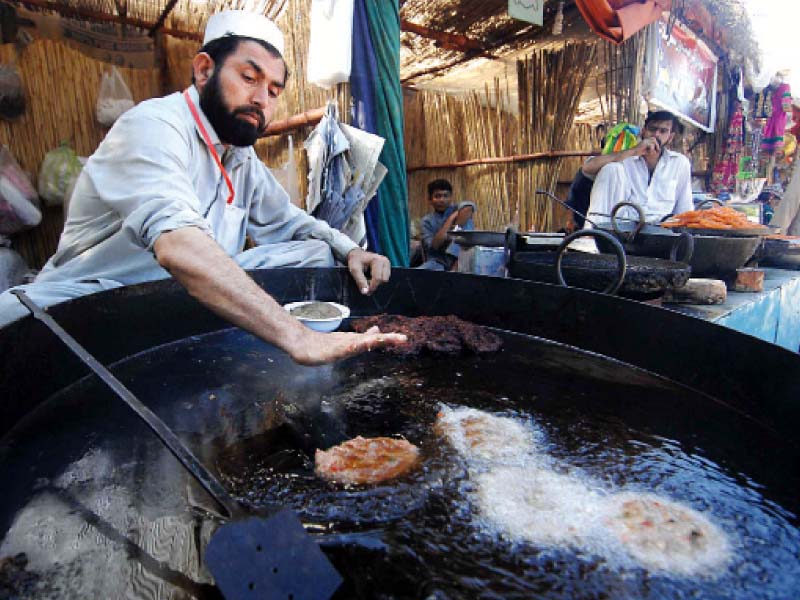 ---
ISLAMABAD:



The on-going Lok Mela 2016 at Lok Virsa nears its end, and there was a different kind of enthusiasm in the air on Saturday as people from all corners the country gathered at the open air space to enjoy cultural and traditional activities.




The 10-day festival is drawing to a close, and has hosted pavilions from every province and region. These have included Punjab, Balochistan, Sindh, Azad Jammu and Kashmir, Gilgit-Baltistan, and now Khyber-Pakhtunkhwa (K-P).

The K-P pavilion seemed to attract many visitors than the others, as it presented folk music, dance, food and traditional arts and crafts from the province. A replica of 'Bab-e-Khyber' welcomed visitors at the entrance of the pavilion. Standing tall in its grandeur, the entrance made the K-P pavilion stand out among the rest. The pavilion also boasted 30 diverse master craftsmen and craftswomen from various parts of the province.

Niaz Ali, a basket maker from K-P, told The Express Tribune that people in his province are extremely talented, and believe in using their hands to create beautiful pieces. "All the baskets exhibited here are handmade, and the reason behind bringing them here is to let the people of Islamabad experience the beauty of traditional K-P arts and crafts," he said.

The K-P pavilion featured stalls with various female artisans, who added diversity and vibrancy to the festival. Tasleem Bibi, an artist from K-P specialised in 'phulkari', a well-known form of embroidery from the Hazara region. She said the tradition of embroidery runs in her family, and that she attained mastery in this field from her mother and other female members at a tender age. The distinctness of phulkari is in its intricate designs. Tasleem Bibi has been showcasing her skill at the festival, using silk threads in bright colours like yellow, shocking pink and green to create beautiful patterns with a live audience.

Male artisans at the pavilion included Khawaja Safar Ali, who works with metal; Ismail, working with a handloom; Aurangzeb Khan, a stone worker; Sultanat Khan, a wood carver; Bashir Ahmad, who makes Karakulli caps; and Riaz Ahmad, a wax painter. Among the men, Safar Ali stood out. He has remained dedicated to his craft despite being 75 years old. His engraved decorative plates, vases, bowls, samavars (metal water boiling utensil with a Central Asian influence) and other goods added a lot of beauty to the pavilion, and were reminiscent of the Mughal Era.

One can't speak about K-P without making mention of its rich cuisine, particularly the Peshawari chappal kebabs. It is no surprise therefore that the K-P pavilion hosted a live chappal kebab station, and included other delicacies from the province such as patta seekh and lamb karahi. While the aroma of the kebabs and karahi were irresistible, the pavilion also hosted sweet stalls such as 'badayuni paire', a delicacy made from milk and khoya.

Speaking to The Express Tribune, Shah Faisal, a sweet maker, said that paire are a speciality that originated in Mardan. "It is nice to see people coming to try this delicacy," he shared.

Published in The Express Tribune, April 10th, 2016.
COMMENTS
Comments are moderated and generally will be posted if they are on-topic and not abusive.
For more information, please see our Comments FAQ