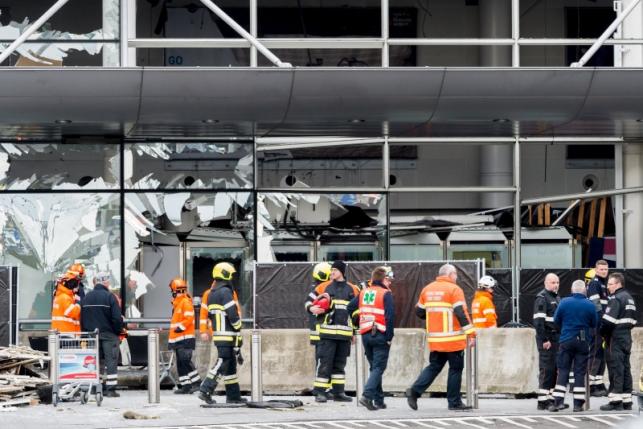 ---
BRUSSELS: The arrest of Paris attacks suspect Mohamed Abrini in raids following the deadly Brussels airport and metro bombings highlighted on Saturday links of Islamic State militants behind Belgium and France's worst terror outrages.

Abrini's arrest on Friday along with four other suspects marks an important step in investigations into the November 13 carnage which claimed 130 lives in Paris and 32 in Brussels.

Belgium arrests Paris attacks suspect Abrini, four others

In both cases, most of the suspects hailed from the largely immigrant Molenbeek neighbourhood of Brussels, including Abdelhamid Abaaoud, said to have played a key role in Paris, along with Salah Abdeslam who was arrested on March 18 not far from the family home.

Salah was supposed to execute a suicide attack in Paris like his brother Brahim, but for unknown reasons he did not follow suit and fled back to Brussels. He managed to evade a four-month long manhunt by the authorities.

The Belgian authorities have come under attack by critics for the poor handling of the security situation as it appeared many of the suspects were known to the police for a long time.

Critics say the government has not done enough to prevent radicalisation of Muslim youth in areas such as Molenbeek, with Belgium proportionately the biggest source of foreign fighters joining the IS in Syria.

Paris attacks suspect Abdeslam captured in Brussels

In a change of tone, La Libre daily carried a cartoon on Saturday depicting a policeman kicking a man holding a hat into a prison cell under the banner: "They criticise the Belgian police but ... Hats off!"

A police video released on Thursday showed a man wearing a hat and light-coloured jacket who was seen with the two airport suicide bombers in the departure hall.

He fled after his accomplices blew themselves up and made his way on foot back into central Brussels. There has been intense speculation about Abrini being the "man with the hat" but the federal prosecutor's office remained silent on the issue.

"Investigators are verifying whether Abrini can be positively identified as being the third accomplice ... the so-called 'man with the hat'," a spokesperson said at the late Friday press conference. The two airport bombers have been identified as Ibrahim El Bakraoui and Najim Laachraoui. Ibrahim's brother Khalid blew himself up at Maalbeek metro station not far from the European Union headquarters in Brussels.
At the press conference on Friday, the prosecutor's spokesperson said Abrini had been arrested in Anderlecht, a gritty mixed district. Two other people were picked up with him but no details of the arrests were given as police operations in the area wound down just before midnight.

Local television channels showed a footage of what was said to be Abrini's arrest, with a man pinned down on the sidewalk by several armed, plain-clothed police personnel who bundled the suspect into an unmarked car.
Abrini, a Belgian of Moroccan origin and the last known Paris suspect, was seen at a petrol station north of Paris two days before the attacks with Salah Abdeslam who is now awaiting extradition to France.

The prosecutor's spokesperson named two other suspects arrested on Friday as Osama K., who went by the alias of Naim Al Ahmed, and Herve B.M.

He said investigators were trying to determine if Osama K. was the man seen with Khalid El Bakraoui moments before the Maalbeek blast. The spokesperson said Herve was also filmed at a shopping mall in Brussels, buying the bags used in the airport attacks.

Swedish media said Osama K. was Osama Krayem, 23, who grew up in the southern city of Malmo, and published photographs of him holding a Kalashnikov assault rifle in front of an IS flag said to have been taken in Syria.

Fugitive from Paris attacks wounded, caught in Brussels shootout
Making another link between the Brussels and Paris attacks, the prosecutor's spokesperson said Salah Abdeslam had rented the car used to pick up Osama K. in Ulm, Germany and brought him to Belgium in October.

Abdeslam had no knowledge of the Brussels attacks, according to his lawyer, despite having links to Khalid El Bakraoui. He also knew Laachraoui, who drove to Hungary with his client in September.
More links between the suspects came to light after the arrest of Reda Kriket near Paris last month who, according to the police, was planning a large-scale attack.

Two suspects in that case, identified as Abderrahmane A. and Rabah M, were taken into custody by Belgium authorities on Thursday. Three other suspects held in connection with the Paris attacks along with Abdeslam also had their detentions extended.
COMMENTS
Comments are moderated and generally will be posted if they are on-topic and not abusive.
For more information, please see our Comments FAQ