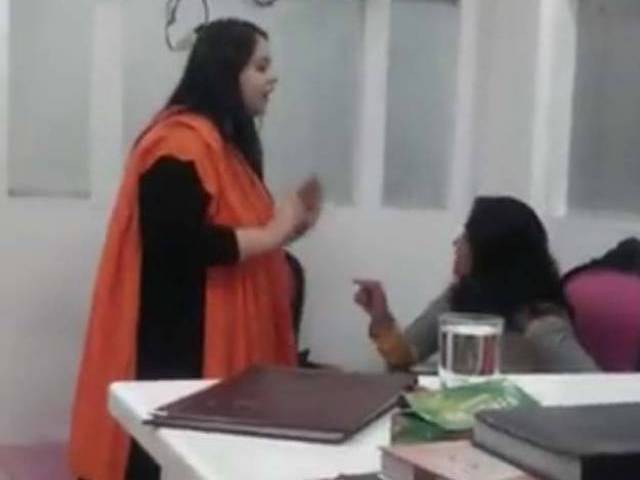 ---
KARACHI: The National Accountability Bureau (NAB) suspended one of its officers after it was found that his wife misused his authority to avenge a personal fight. NAB Karachi's deputy director Ausaf Ali was placed under suspension with immediate effect on Saturday, according to a press release issued by the bureau.

The suspension was a result of an incident that took place on Tuesday. Envy Salon owner in Gulistan-e-Jauhar, Haya Ali, claimed that her employees were beaten up by policemen in civvies sent by Ausaf's wife, Hina Khan, after she lost her jewellery at the premises.

Hina came to the salon, complaining that she lost her chain at the parlour a day earlier on April 4. The owner informed her over the phone that the staff was not responsible for any lost items, as per the "giant sign at the reception that clearly states that my salon is not responsible for any loss whatsoever and every client must look after their personal belongings".

Salon owner, staff allegedly assaulted by NAB official's wife in Karachi

When Haya made her way to the salon later, she found Hina waiting for her. "[She was] still yelling at my staff. I tried talking to her and asked her to calm down several times (still politely) and she refused," said Haya, in a Facebook post.

"This woman [Hina] had my guard beaten up, trespassed [without a warrant] and scared my girls [employees]," complained Haya. "Those four men were government officers who came in a police mobile after Hina's husband [the NAB officer] ordered them too."

Haya called in security to escort her out of the premises but Hina punched Haya in the face. Soon after,  four armed men in plainclothes came in a police van and beat up the guard deployed outside, said the salon owner. "They snatched his gun and nearly broke his leg," she said.

According to Haya, these men vandalised the salon and entered every room, even the massage section. "They burst the door open and opened Every. Single. Curtain. Might I add this is where women lay with their bare backs [sic]."

Speaking to The Express Tribune, Haya said they tried to lodge a complaint but the SHO refused. In fact, he forced them to sign a settlement with the accused. "When my mother, [actor] Shagufta Ejaz, told the police she'll take the matter to court, the SHO threatened to imprison me and all my staff."

Case registered

Initially, Sharae Faisal police SHO Raja Tariq — under whose jurisdiction the salon falls — claimed that no case has been registered. On Friday, they did register a case, FIR No 187/16, against Ausaf, his wife and the unidentified men who attacked the salon employees. Police have yet to make arrests.

Conflicted compromise

Meanwhile, the accused family wondered why the salon owners pursued the case even after they signed a compromise, but Haya insisted they were forced to sign it. "They [salon owners] shared the video about what happened to them but why are they not sharing the issue about what they did to us?" said a man close to the family of the accused NAB officer.

Published in The Express Tribune, April 10th, 2016.