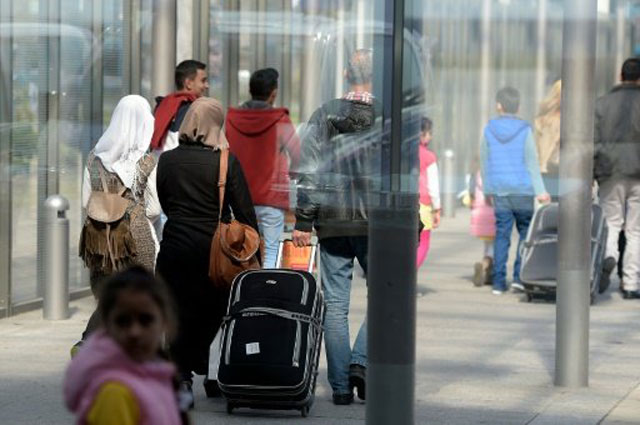 ---
BERLIN: The number of new asylum applications in Germany, Europe's top destination for refugees last year, dropped 66 percent in March to about 20,000, Interior Minister Thomas de Maiziere said Friday.

"In December 2015, it was 120,000 people, in January 90,000, in February 60,000 and in March 20,000," he said, weeks after a string of Balkan countries closed their borders to refugees, halting the mass influx.

Greece to send first migrants back to Turkey under EU deal

Germany last year took in more than one million refugees and migrants, with the flow accelerating after Chancellor Angela Merkel in September suspended normal EU asylum rules to grant safe haven to people fleeing the Syrian war.

The mass influx sparked a backlash in Germany -- which has since reintroduced temporary border controls and taken other steps to reduce numbers -- and in eastern Europe, where a string of Balkan countries in early March shut their borders to refugees flocking in from Greece.

De Maiziere also said that an EU-Turkey agreement to stop refugees crossing by boat to EU member Greece had "got off to a good start".

The March 18 accord sets out measures for reducing Europe's worst migration crisis since World War II, including the shipping back to Turkish territory of migrants who land on the Greek islands.

In return, Turkey is allowed to fly batches of Syrian asylum seekers straight to EU member countries and is slated to receive benefits including visa-free travel for its citizens to Europe.

"The number of asylum seekers who have come to us to request asylum and refugee status fell markedly in the first quarter," De Maiziere said.

The numbers for January-March were down to 170,000 compared to over 500,000 for October-December 2015, he said, citing data from the government's EASY initial registration system.

But he warned that "despite the positive development, it is too early to give a prediction for the full year" and said that refugee registration centres and shelters for new arrivals should be kept open for now.

"We don't know ... whether alternative routes will emerge, especially Libya-Italy, and how Italy would respond," the minister cautioned.

EU warns Pakistan over migrant cooperation

The migrant influx has damaged voter support for Merkel and her conservative party while boosting the right-wing populist Alternative for Germany (AfD) party.

Voter support has fallen slightly to 34 percent for the conservatives and to 22 percent for Merkel's coalition partners, the Social Democrats, while it rose to 13 percent for the AfD, according to a new Deutschlandtrend poll of 1,000 voters for public broadcaster ARD.