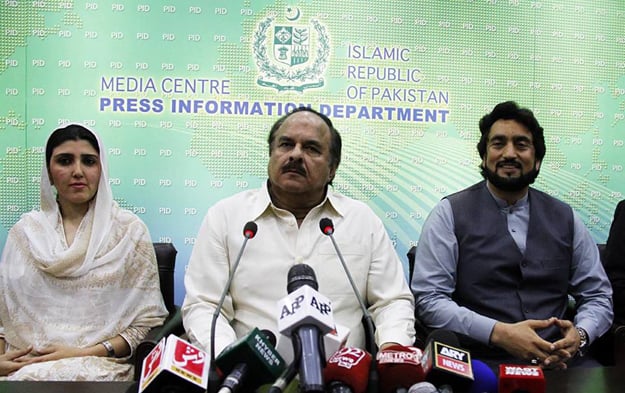 ---
ISLAMABAD: It was something of a rare event in the country's political arena when the Press Information Department (PID) opened its doors on Thursday to the opposition Pakistan Tehreek-e-Insaf (PTI), enabling one of its leaders to stage a news conference against the government.

The government allowed PTI's Information Secretary Naeemul Haq to address the media as Information Minister Pervaiz Rashid 'welcomed' the party but It is perhaps the first time that an opposition party has used the forum.

Imran Khan demands commission headed by CJP to probe Panama Papers revelations

A PTI office-bearer told The Express Tribune that they had formally sent a letter to the Press Information Officer (PIO), but the office refused to receive it. Later, when media crews arrived at the venue for coverage, they were told that no press conference was being held there, he added.

He said that finally they managed to hold a meeting with the PIO about an hour before the news conference, seeking permission. The PTI believes that the PID is a public forum and no one should be discriminated in this regard.

PIO Rao Tehsin Ali Khan could not be reached for comment. Haq had announced plans to hold the event at PID on Wednesday while responding to allegations levelled by PML-N members against Imran Khan and Shaukat Khanum Hospital.

Members of the ruling PML-N had alleged that Imran Khan invested donations pledged to the hospital's in offshore companies and lost money on the investment.

Imran invested Shaukat Khanum donations in offshore companies: PML-N leader

Later, he told the media that the PTI would only accept the findings of a "credible and unanimously" set up judicial commission to probe into the revelations contained in the Panama Papers about the offshore assets of Prime Minister Nawaz Sharif's family members.

Referring to the PM's speech to the nation, Haq said a major portion of his address was about his family but he did not answer questions raised by the International Consortium of Investigative Journalists (ICIJ).

He said that instead of responding to the allegations, the information minister started hurling baseless accusations against Imran Khan and Shaukat Khanum Hospital which was condemnable.

Published in The Express Tribune, April 8th, 2016.
COMMENTS
Comments are moderated and generally will be posted if they are on-topic and not abusive.
For more information, please see our Comments FAQ