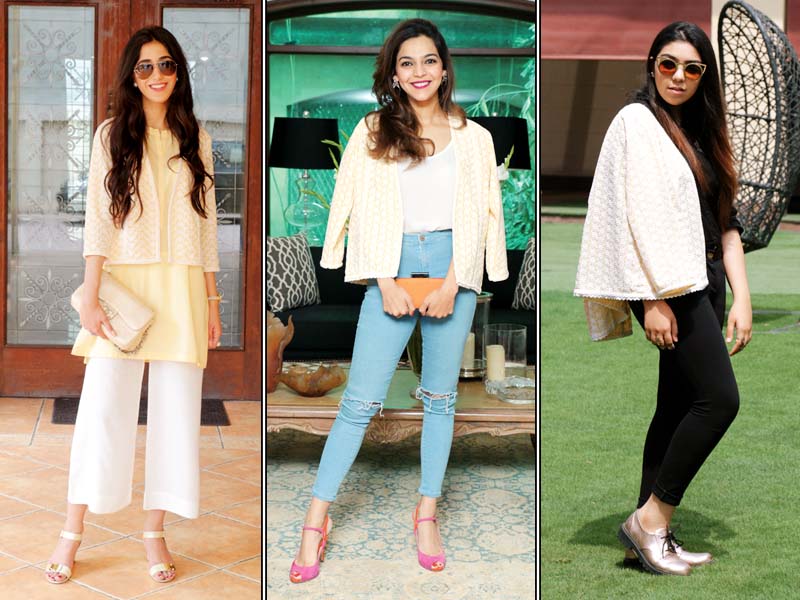 ---
While trends fade, style remains eternal and one piece can be put together in many different ways. We ask three fashionistas to put together an outfit using the same item from a designer's collection, according to their style and taste!


This BTW jacket is a reflection of the brand's ideology, which aims for timeless pieces with a modern twist. According to the design house, this jacket is an attempt to change the mindset of their customers towards chikankari. It is in a pale yellow shade, closer to chikankari's original colour, enabling the embroidery to be visible on the fabric. The jacket was designed keeping in mind the woman of today, who prefers classic pieces that are not only contemporary but versatile too.


Jza Malik

Fashion blogger

When I saw this gorgeous chikankari jacket, I immediately started thinking of different ways of styling it. I settled for a black under-shirt and pants, keeping the focus on the jacket. I draped it t loosely over one shoulder, keeping the look simple yet chic. My metallic kicks from H&M and cat eyeshades from Aldo added the perfect edge to my outfit. I kept my hair sleek straight with a centre parting. Since I'm still a teenager, I barely apply any make-up — some eyeliner and blush does the trick. I can see myself wearing this fun look to a night out with friends, or a social event like a launch.


Amina Sibtain

Co-founder Fitfibre

I would describe my personal style as classic yet trendy and I'm all about solid colours. This chikankari jacket was perfect for a daytime look so I opted for ripped denim jeans and a plain white blouse, draping the jacket over my shoulders to add character to my look. My bright pink stilettos and clutch added the much-needed pop of colour to my outfit. I generally don't wear a lot of makeup, so I finished off my look with a bright pink lipstick and some mascara. For my hair I got a voluminous bouncy blow-dry, making this look ideal for a formal brunch.


Amirah Ellahi Chaudhry

Student

I like to experiment with the latest trends and try finding my comfort zone, whether it's eastern or western wear. For this jacket, I wanted to enhance the beauty of the detailing by keeping my look simple and traditional, yet modern at the same time. I paired it with off-white culottes and a pale yellow undershirt, which made the white embroidery on the jacket more visible. To complete my look, I chose a light gold, pearl-finish Chanel bag and classic, patent leather Louis Vuitton wedges. I kept my accessories minimal with just my everyday watch, pearl earrings, and a ring. For my makeup, I aimed for a daytime dewy look; I went for a lot of mascara, a nude lipstick, and bronzer. I kept my hair natural and wavy, perfect for the summer. I would sport this look to a formal lunch.