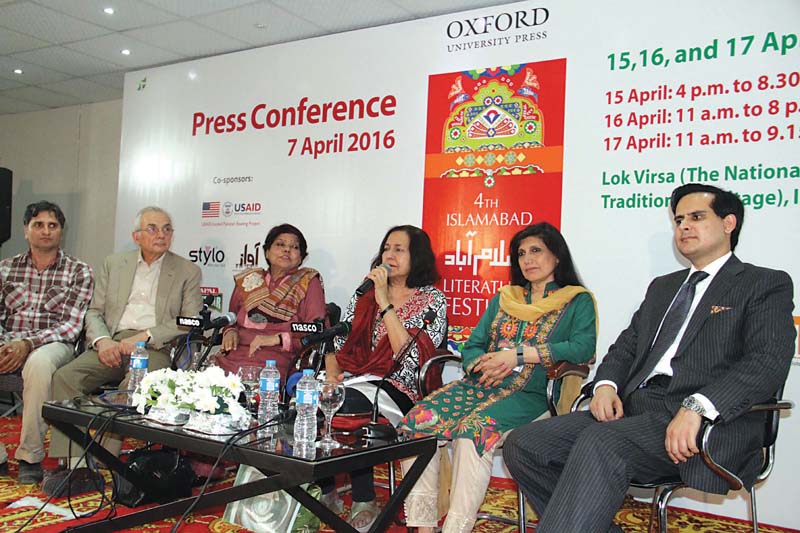 ---
ISLAMABAD: Renowned poet and writer Kishwar Naheed has lauded the announcement of hosting of the Islamabad Literature Festival (ILF) by the Lok Virsa set to begin next week as a welcome respite in a city that has seen a bit of political drama recently in the form of protest demonstrations.

She said this at a press conference announcing the date of the literature festival. The ILF that aims to encourage reading and bring together writers, poets, scholars, educationists and students kicks off from April 15 at the Lok Virsa.

Naheed said that Islamabad being the capital got to see a lot of political drama such as sit-ins.

"It is great that after all that, a literature festival is being hosted in the capital, which will bring people from all over Pakistan. The literature festival should be hosted in all cities of Pakistan to encourage people to read and know about Pakistani authors and literature," she said.

"Peshawar deserves a literature festival just as much as Islamabad. Individuals and private parties should also take up the initiative of hosting literature festivals in their own cities," Naheed added.

The three-day event will feature talks and interviews, panel discussions, poetry recitals, book fair, book launches, dramatic readings with book authors, author signing, sessions for performing arts, Sufi music and art exhibition. Oxford University Press Managing Director Ameena Saiyed said that Pakistan had some of the best authors, poets and scholars in the world.

"The ILF is not merely a local affair. Participants and visitors from all over the country will attend, and the festival will allow participants' access to leading writers and authors," she said.

Saiyed further added that the idea of the ILF was to gather all of them at a single platform, and encourage conversation and discourse, so students and children could truly benefit from them.

She urged journalists to write and promote the literature festival so it reached people beyond Islamabad and Rawalpindi.

"Last year, I met a person who took a 36-hour bus ride from Gilgit to Islamabad just to attend the festival and meet authors," Saiyed added.


Lok Virsa Executive Director Fauzia Saeed said that it was an honour for the Lok Virsa administration to host the festival.  "The ILF attracts crowds from all parts of Pakistan as well as abroad. Hosting it at a place such as Lok Virsa is a great way to promote the culture and traditions of Pakistan. Lok Virsa museum will also get highlighted due to the literature festival," she said.


Published in The Express Tribune, April 8th,  2016.