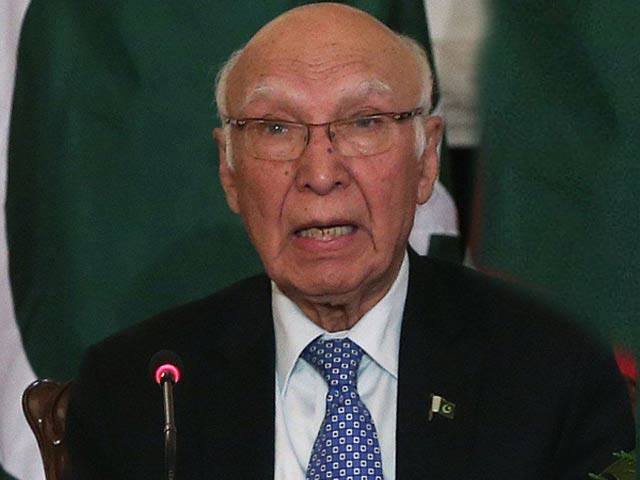 ---
ISLAMABAD:



An exclusively military approach has not worked in Afghanistan for the past 15 years and therefore it is important that the focus of regional stakeholders should be on facilitating an inclusive reconciliation process, Adviser to the premier on foreign affairs said.




Sartaj Aziz reiterated the government's stance that Pakistan will continue to play a consultative role in Afghan reconciliation process under the principle of shared responsibility and the Quadrilateral Coordination Group (QCG) of Afghanistan, China, Pakistan and the United States (US), on Afghanistan peace and reconciliation process would have to collectively decide how to deal with elements refusing to join the peace process.




Speaking at a panel discussion, 'From Winter to Spring: Revisiting the Afghan Question', organised by Jinnah Institute on Thursday he said that  "No one can dictate terms to either the Afghan government or the Afghan Taliban, nor can arbitrary timelines, deadlines or conditions be attached to the reconciliation process".

Aziz said that Pakistan having bore the brunt of terrorism felt the pain of Afghans caused by continuing violence in their country. "Pakistan is committed to the idea that one of the key goals of the Afghan reconciliation process be reduction and ultimate cessation of violence," he said and added that both governments were working on standard operating procedures (SOPs) for better border management to prevent movement of militants across the border.

Afghan Ambassador to Pakistan, Dr Omar Zakhilwal, said that it was important to build an environment of trust, as the main hurdle to peace in the region was the Afghan-Pakistan trust deficit.

Taking note of the nature of shared challenges facing both countries, he agreed that it was important for both sides to talk to each other and not act at each other. "Without peace in Afghanistan, there could be no peace in Pakistan," the Afghan envoy said and acknowledged that Pakistan too had paid a high price for regional conflict.




He estimated that Pakistan lost $70-80 billion annually due to instability in Afghanistan and the region adding that Pakistan would always face roadblocks in its attempt to become a gateway to Central Asia, as would Afghanistan in its attempt to be a land-bridge to Central Asia, if peace continued to elude Afghanistan.

He cautioned that elements supporting violence in Afghanistan continued to use Pakistani territory. In his recommendations, the Afghan envoy said it was important to leverage the people-to-people relationship for greater peace and stability given our common ancestry, faith, language and geography. He felt that while there was a need for genuine, direct, frank and broad-based dialogue between Afghanistan and Pakistan, it was equally important to facilitate media and civil society interaction.

Jinnah Institute President, Senator Sherry Rehman appreciated President Ashraf Ghani's role as an advocate of regional stability and change.

She added that it was important to strive for an inclusive, Afghan-led peace process given recent Taliban battlefield successes. A negotiated settlement, she noted, was in the best interest of Afghanistan as well as regional players.


Senator Rehman cautioned that there were limits to Pakistani state power in leading this conversation. "Both Pakistan and Afghanistan need each other for trade, transit and combating terrorism, but Pakistan has been put in a difficult position," she said and added that it was fighting one of the largest inland war against terrorism and the situation was made all the more difficult by a long porous border.


Published in The Express Tribune, April 8th,  2016.